Overview
TA-Tools and TO-Tools are tools that are displayed in the planner of the TripBuilder system when they are enabled. These tools give further functionalities to different user segments.
TO-Tools are Tour operator tools, and they are generally used by all TO users or admin users of the platform.
On the other hand, TA-Tools are intended for Travel agents users, which are especially important for customers with a Travel Agency Management set up.
Please Note
If your TripBuilder is set up without Travel Agency Management, then the TA-Tools check box does not need to be enabled.
Steps to enable/disable TO-Tools:
Go to Settings
Click on Distribution Channels
Click on your TripBuilder ID
Click on the Planner tab
Enable/Disable the different features by checking the boxes
Click Save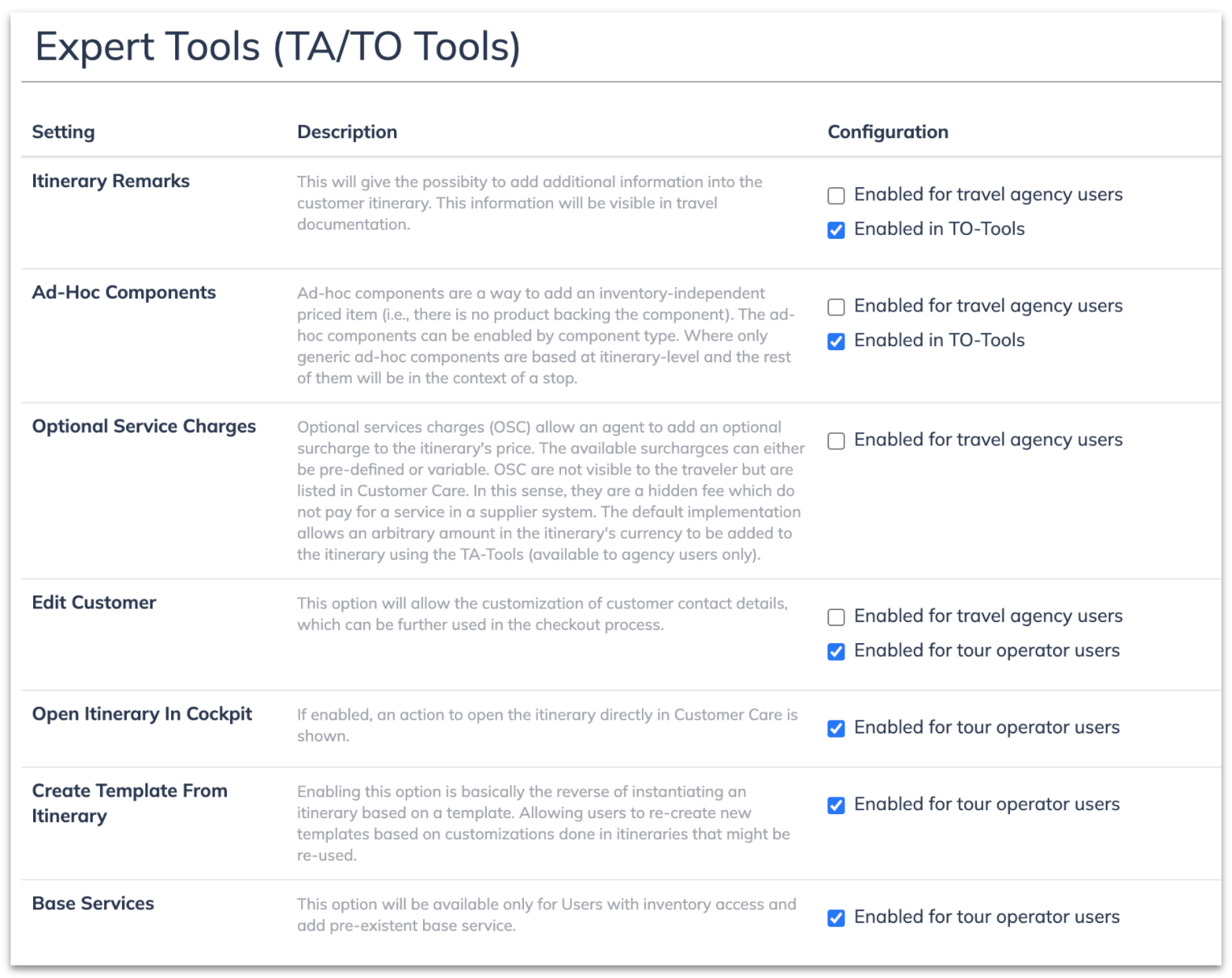 The following table explains in more detail the different functions of the features.
Option
Description
Article
Itinerary Remarks

The itinerary remark functionality will allow you to add remarks to the whole itinerary, a stop of the itinerary, or any selected component of the itinerary.

Read more
Ad-hoc Components

Ad-hoc components are a way to add an independent priced item to the itinerary. Currently available to add

Generic ad-hoc components
Ad-hoc activities
Ad-hoc transports/flights

Only Generic ad-hoc components are based at the itinerary level and the rest of them will add to the dedicated stop of the itinerary.

Read more...

Optional Service Charges
OSC allows an agent to add an optional surcharge to the itinerary's price. The available surcharges can either be pre-defined or variable.
Read more
Edit Customer

This option will allow the customization of Customer Contact Details, which can be further used in the checkout process.

Read more
Open Itinerary In Cockpit

This option allows authorized users to open itineraries in Cockpit / Customer Care.

-
Create Template From Itinerary

Enabling this option is basically the reverse of initiating an itinerary based on a template. This option will allow users to save an individually planned trip from scratch as a new template, which can later be re-used.

Read more
Base Services

Base Services are additional components that have a fixed pricing for a set duration. They offer the option to shorten or extend the duration of service, by subtracting or adding a specified amount from the fixed price.

In order to add these Base Services to an itinerary, the user must have Inventory access where the option of creating and adding these services is possible.

Read more