Introduction
TripBuilder supports different languages. These are made available at two levels:
Cockpit Languages: languages in which the Cockpit UI can be presented. Currently, the supported languages are:

English
German
Spanish
Portuguese

Content Languages: languages in which inventory products, modules, templates, and areas can be set up depending on your user base language. Currently, the supported languages are:

English
German
Spanish
Portuguese
Finnish
French
Italian
Dutch
This article serves as a quick introduction on how to change languages or translate products.
Cockpit Languages
The language of the cockpit interface can be changed on the upper right toolbar:

Depending on which language is selected, the cockpit interface will automatically be adjusted to the chosen option, and the naming of the products will be displayed accordingly.
All steps and processes in the following sections will be offered in the selected language:
Customer Care section
Inventory section
Titles & drop-down menus
Validation messages of products, Modules & Templates
Error messages and warnings
Content Languages and Translations
In the inventory, the switch Content-Language should be correctly set, depending on the language in which you would like to add content:

Please Note
The language of the cockpit interface can differ from the content language, e.g. if you speak English and prefer the interface to be in English, you can still load and select German content.
Loading Content
If you support content in different languages, you can load content and its translations.
Please ensure that the switch Content-Language is set to the language you are loading the content in before you start.
On the grey highlighted label on each field, you will also be reminded of which content language you are currently in.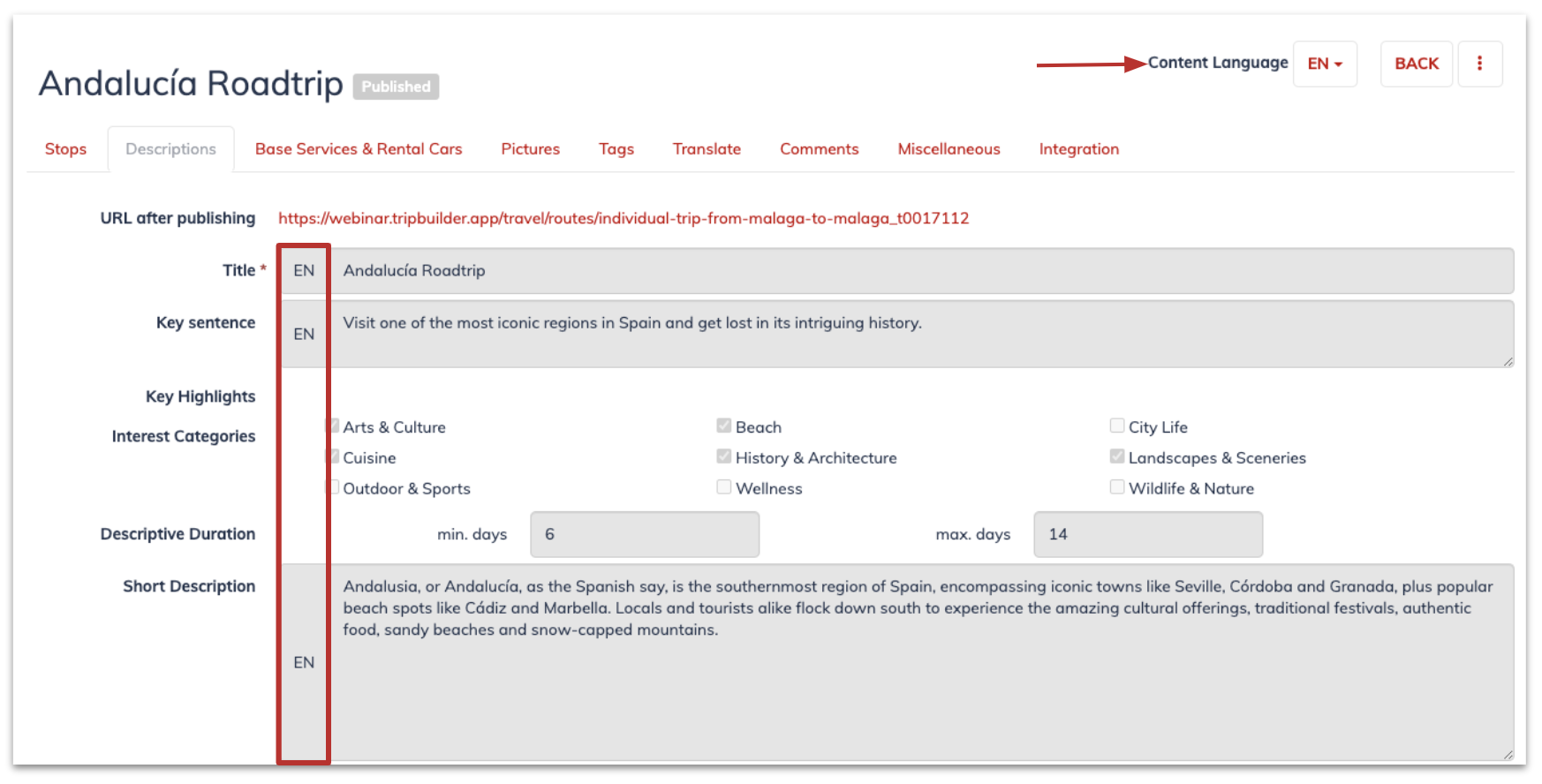 If you have loaded the content in one language and switched to another content language, this will result in the fields being empty and displaying "XX text missing".
As soon as both languages are added, the title and descriptions will be displayed in the corresponding language.
Translations
To add the descriptions in both languages or to translate directly on the Nezasa platform, the Translations tab can be used.
By using this tab, all description fields and tabs of the product are displayed one after another to facilitate the translation process on the spot.
Please Note
Do not forget to save your changes.