A Hyper - Personalised planning and booking tool
TripBuilder is the most advanced automated platform for real-time planning and booking of personalised travel experiences. The software allows users to design and modify complex travel itineraries according to personal requirements in a few simple steps. With TripBuilder, travel businesses can effectively optimise revenue and elevate the travel experience.
Solution Components

Discovery
Selection of curated trip
Tour suggestions derive from templates that are built and stored in the inventory of the system.
For FIT, a "from scratch option" is available as well.
Displayed are main predefined programmes that have the option to book a pre-and a post-service as well.

Planner
Hyper-personalised itinerary planning
Benefit from live availability of external supply or use inventory-based products.
Add travel products such as hotels, activities, flights, ground transport, and rental cars from an online supplier (always with live pricing and availability).
Insert travel products from your own, offline sources (your DMCs or your direct contacts).
Generate travel documentation from your itinerary anytime, with a simple click. Download it as a PDF.

Checkout
The checkout can be customised as well.
Our standard checkout consists out of:
Online Booking
Booking Request
CRS Handover
If you do a booking request:
an email notification will be sent
booking will be visible in the Cockpit
the booking can be exported with Booking API

Customer Care
Booking Manager & Travel Document Generator
Overview of all itineraries based on their planning/booking status
Detailed overview of prices of each component, including their margin
Detailed information of the traveller
Direct link to travel documentation and vouchers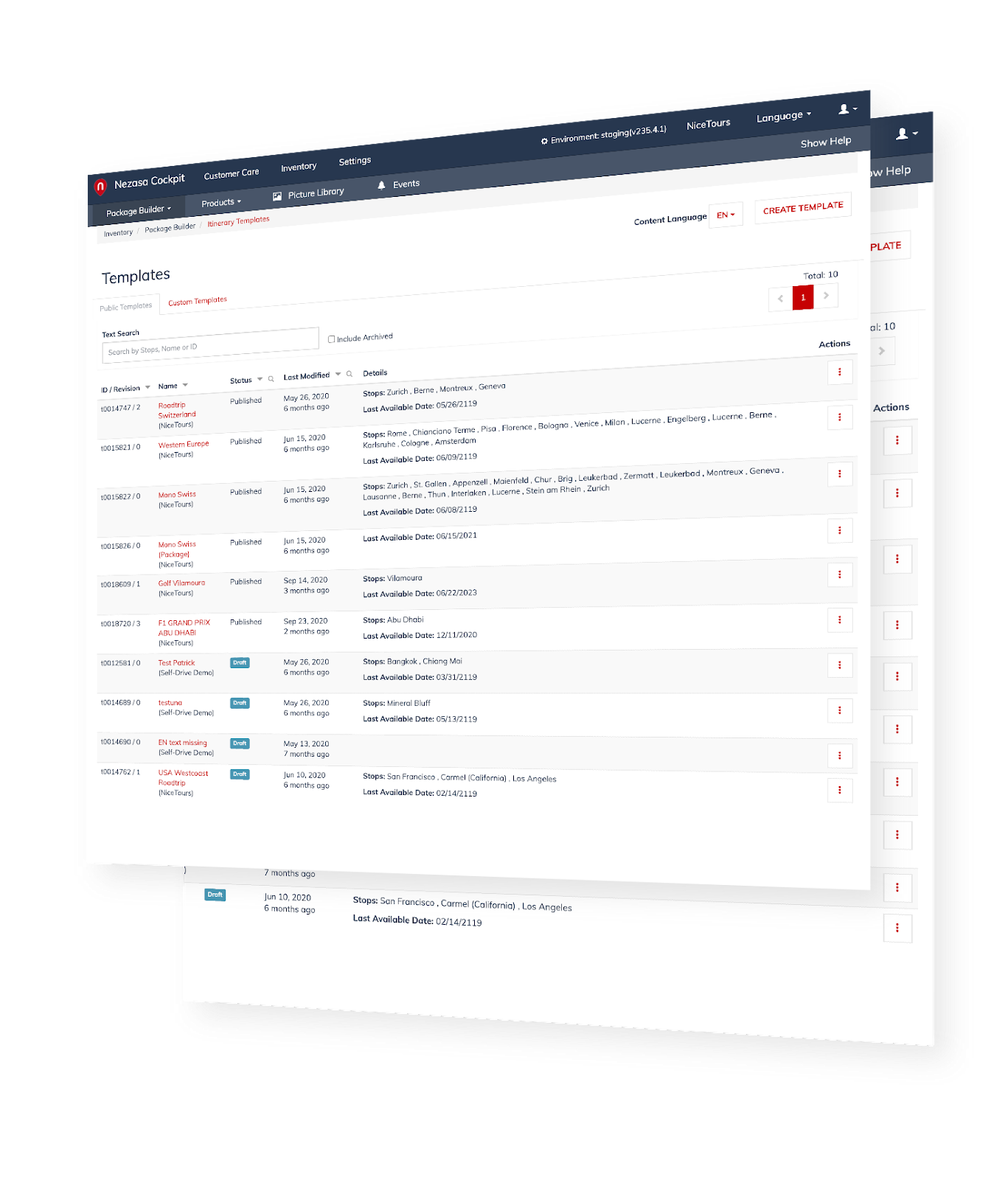 Inventory
Inventory System
Manage templates and packages
Manage areas
Create inventory products
(e.g. own contracted supply)
Store pictures for your inventory templates and products

Settings
Control everything
Currencies & FX Rates
(automated or own)
Markup Settings
Cancellation & Processing Fees
Travel Agencies (Based on Setup)
User Management
TripBuilder Customer Settings
Integration Capabilities
Nezasa is focused on providing the best possible integration into your existing setup.
As a Nezasa customer, you can start light (without any integration effort) and then customise the solution later down the road.
Connect our solution easily to your back-office systems, CRM, content management systems, custom supply systems, or custom-built UIs. Nezasa's powerful, comprehensive set of APIs makes it happen!
Supplier & Partners
Find more details here.

TripBuilder APIs
Discovery API
Search curated trips and retrieve descriptions and pictures.
Planning API
Create a personalised trip from scratch or based on a curated trip. You may also plan details of the trip (start date, hotels, activities, etc.).
Booking API
Trigger, book or cancel actions. Retrieve complete bookings and their components.