Overview
All of our Marketplace customers will find a link to our Branded Tours section on the Discover page of TripBuilder.
Branded Tours are curated trips provided by DMO's and Nezasians to promote different destinations. The trip suggestions are examples of self-drive itineraries that are not set in stone but meant to be further personalised.
You, as a TripBuilder user, are able to use these trip suggestions to offer them to your customers and alter them according to their needs. Moreover, you are able to book them directly in the system with the connected Marketplace supplier.
Steps to view and use Branded Tours
Go to Our Tours
Click on Branded Tours
Use the filter options for

Brands
Country to define your search
Branded Tours by Brand USA
Brand USA Insider Guides consist of exclusive itineraries designed to promote the United States of America "To, Through and Beyond the Gateways", and to ensure equality in promoting US destinations. The itineraries are designed around Brand USA consumer campaigns, promotions and International market trends and opportunities, to develop fresh, new content for the International traveler. In partnership with Receptive and International Tour Operators the Insider Guide itineraries are available in 9 languages and bookable globally. For more information on resources and support https://traveltrade.visittheusa.com/USAItineraries.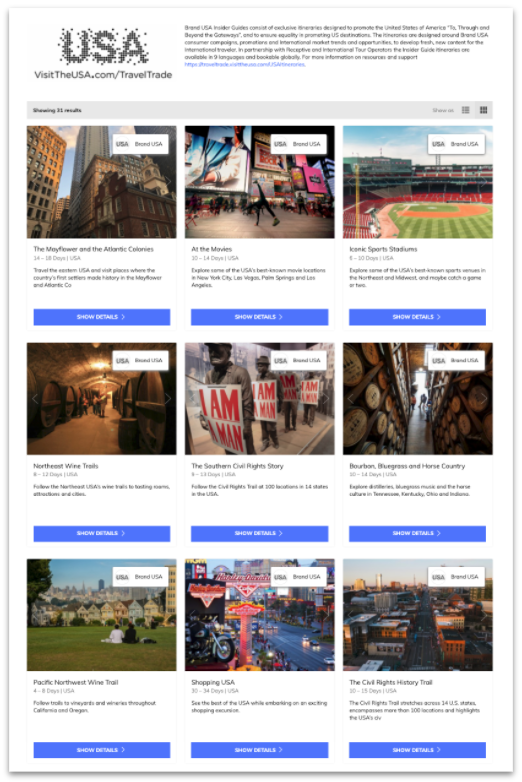 Branded Tours by Nezasa
Need some travel inspiration?
Browse through our itinerary suggestions that have been designed for you by our Nezasa team. We are a team of full travel enthusiasts, who live what they preach. Personalisation and authenticity are what we thrive in our travel experiences. At Nezasa, we do not only create the best platform to create hyper-personalised trips, but we also design trips that are truly unique. This selection of routes and trips grant you a flavour of Nezasians travel experiences that are meant to be further personalised by you. Let your customers follow in the footsteps of our experience while curving out their own path.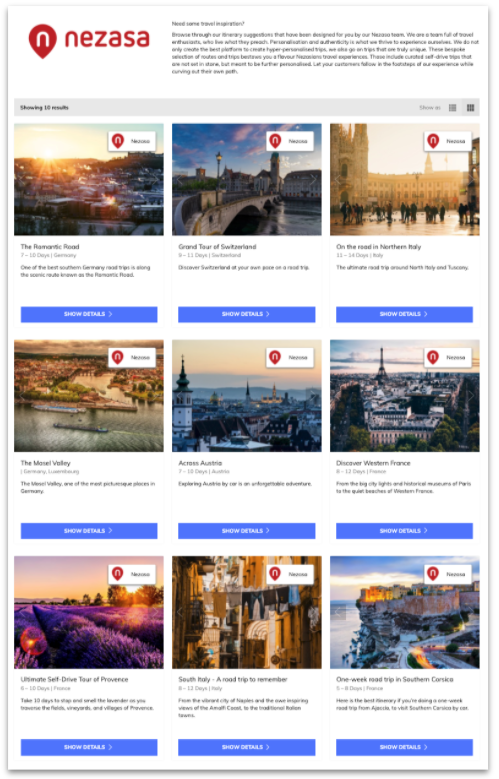 Log into your TripBuilder now to discover the collection of branded tours! LogIn