Learn how to apply a booking change to a booked itinerary in customer care
This article describes how to perform a post-booking change in the Nezasa cockpit.
---
Please Note: This feature is only available for Premium Plans or higher and needs to be enabled in the back-end. For more information, please contact your account manager or Support Team.
---
How to modify an itinerary
Post-booking changes are made via the Nezasa Cockpit in Customer Care and can only be applied to confirmed itineraries.
The following instruction will give you a detailed overview of how to change an existing booking.
Steps to modify an itinerary
Open the respective itinerary in the cockpit, under customer care
Click on Initiate Booking Change under the Action button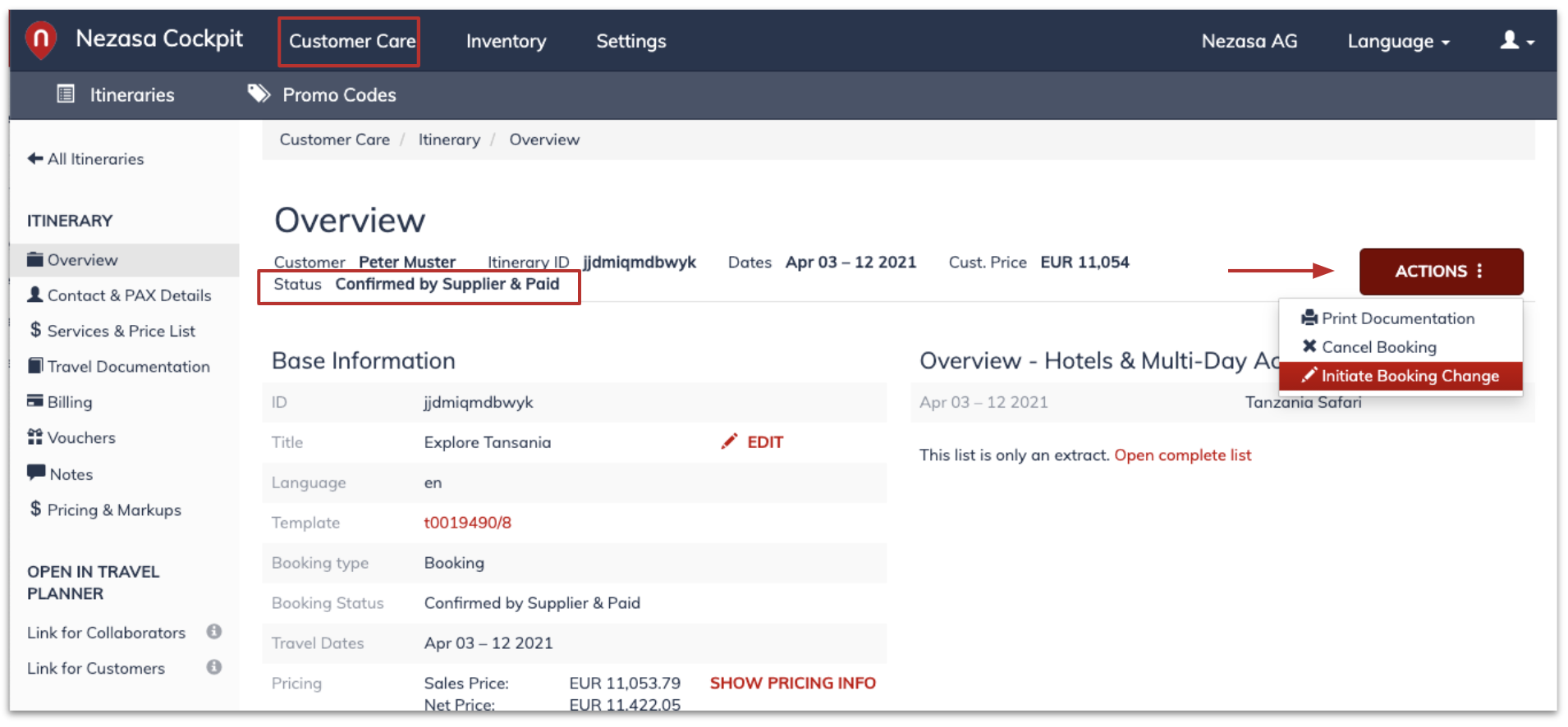 The itinerary is set to Change Initiated status
The link to modify the itinerary on the planner is displayed in the Open Booking Change section
A toggle next to Itinerary allows you to switch between the Original and Alternative view of the itinerary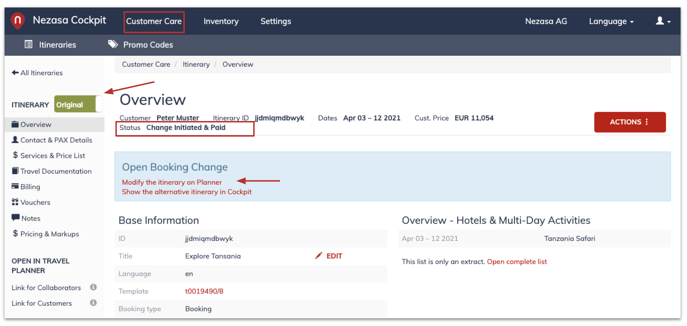 Click on the link to Modify the Itinerary on the Planner
Itinerary will be opened in the planner
Possible adjustments/changes can be made to:

Accommodation
Activities
Rental Car
---
Please Note: Changes to booked accommodation, activities and rental cars will trigger a cancellation of the original component and will require a new booking of the newly selected component.
---
When adjustments have been made in planner, the user clicks on the button Continue in Cockpit

The itinerary will be displayed in Customer Care
Click on Complete Booking Change under the Actions button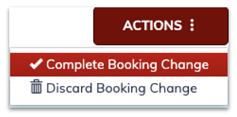 ---
Tip: You may click on Discard Booking change to return to the original itinerary.
---
Pop-up Complete Booking Changes will be displayed.
User can choose from the following options:
Set a processing fee per pax or in total
With fee
Without fee
Keep original sales price
Apply a total discount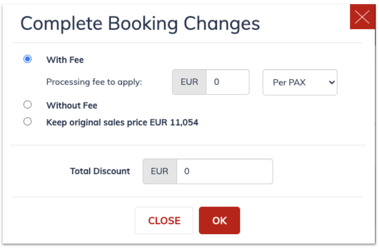 Itinerary is set to Change in progress status
An overview with booking updates will be displayed
Booking change is completed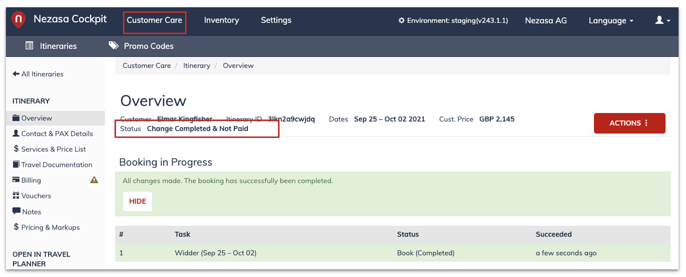 After the booking changes have been made, the data of the itinerary will be updated accordingly including the travel documentation.
---
Please Note:
Once flights have been booked and tickets are issued, changes or cancellations can not be made via the Nezasa System.

Bookings, including insurances, can not be changed.
---