Overview
Area Descriptions are used to describe an area, i.e. a stop within an itinerary, where the customer can overnight and choose from a selection of optional activities.
Steps to create Area Descriptions
Please Note
In order to create an Area Description, the area, i.e. its location, must be created beforehand.
Please refer to the following article for more information: Areas
Go to Inventory
Click on Package Builder
Click on Area Description

If the Area is already created, click on Create Area Description and select your desired area from the drop-down menu.

Add a Key sentence (mandatory), and a short and long description (optional)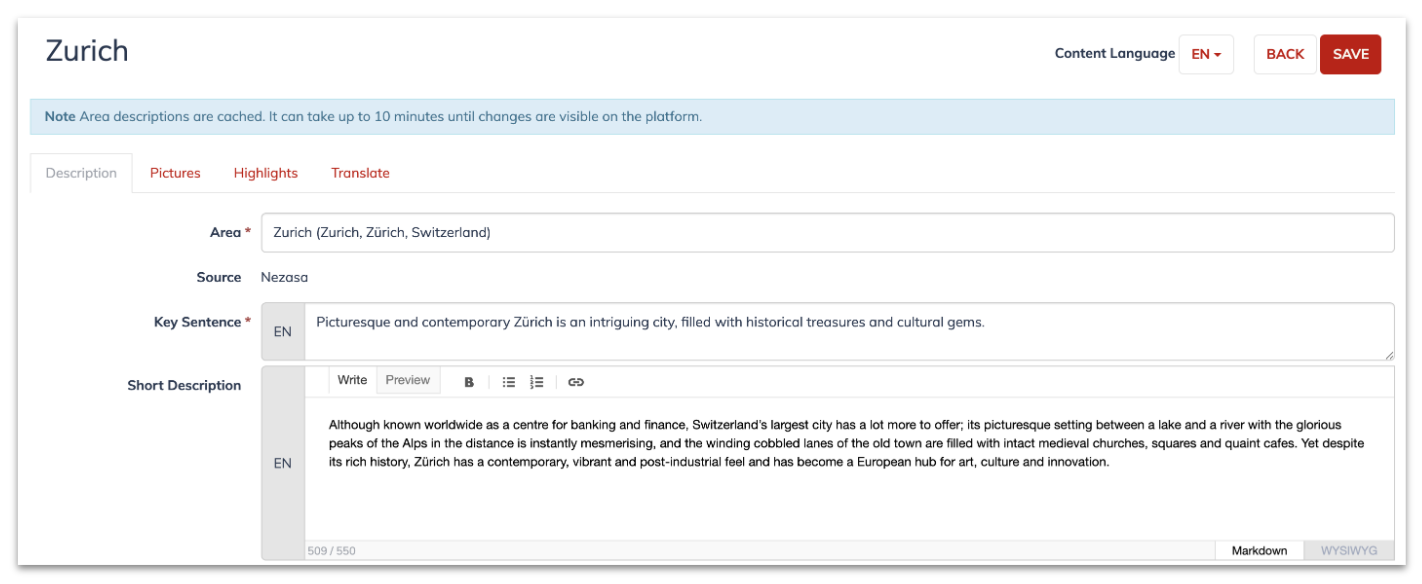 Upload a representative, high-quality picture of the area (we suggest at least 3)

In order to add pictures, they need to be upload first into the picture library. Please refer to the following article: Pictures

Add Highlights

In order to add highlights, they need to be created first. Please refer to the following article: Highlights


Please Note
The area description is still in draft mode and needs to be set to Published. Areas that are set to Draft do not appear in the drop-down menu when adding stops to an itinerary.
Area Actions & Publishing

| | |
| --- | --- |
| Remove | Deletes the area description, which cannot be retrieved. |
| Translate | Opens the area descriptions on the tab Translations, which allows translating the content easily in the Cockpit. |
| Publish | Will publish the product and set the status on Published. |
| Set to draft | Sets the published version back on status Draft and allows to alter the content. |
Important
Unlike products, modules and templates, Area descriptions and Highlights do not have any revision numbers.

Setting these options to draft, results in them not appearing on the Frontend.

The published version will no longer be live until the draft is published again.

Equally, removing a draft will also result in the description being deleted.



Display in Discovery, Planner and on the Travel Documentation
The Area Descriptions are displayed in different places on the Frontend:
Discover
In Explore, all of the most important stops/areas of the Template will be indicated:

Click on Show Details to display the detailed overview of the trip. The area description will then be displayed in short...

... and in full after clicking Read more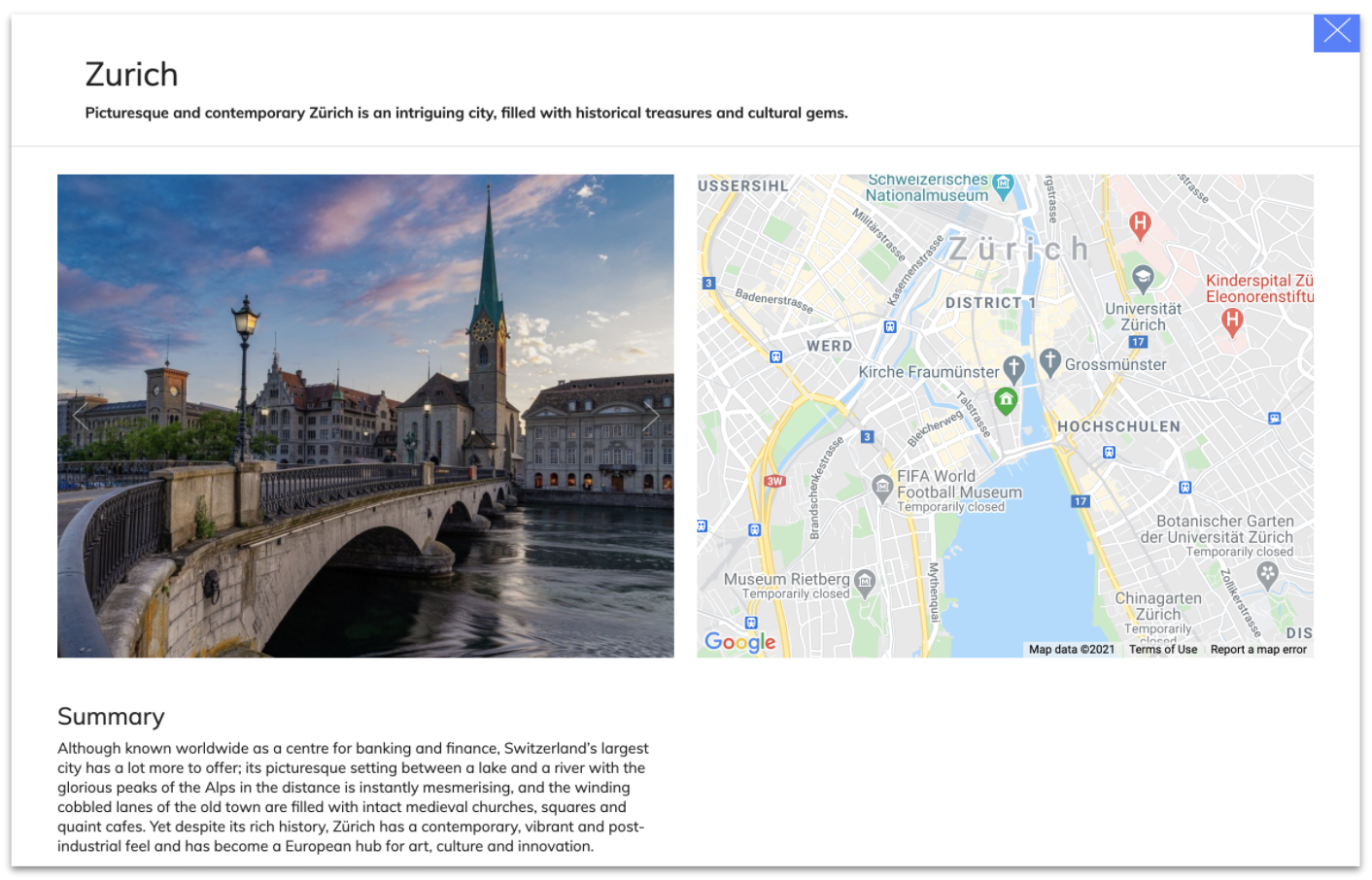 Planner
In the Planner, the stop/area is listed and its accommodations and activities displayed.
Clicking Show Highlights will direct you to more information on the area.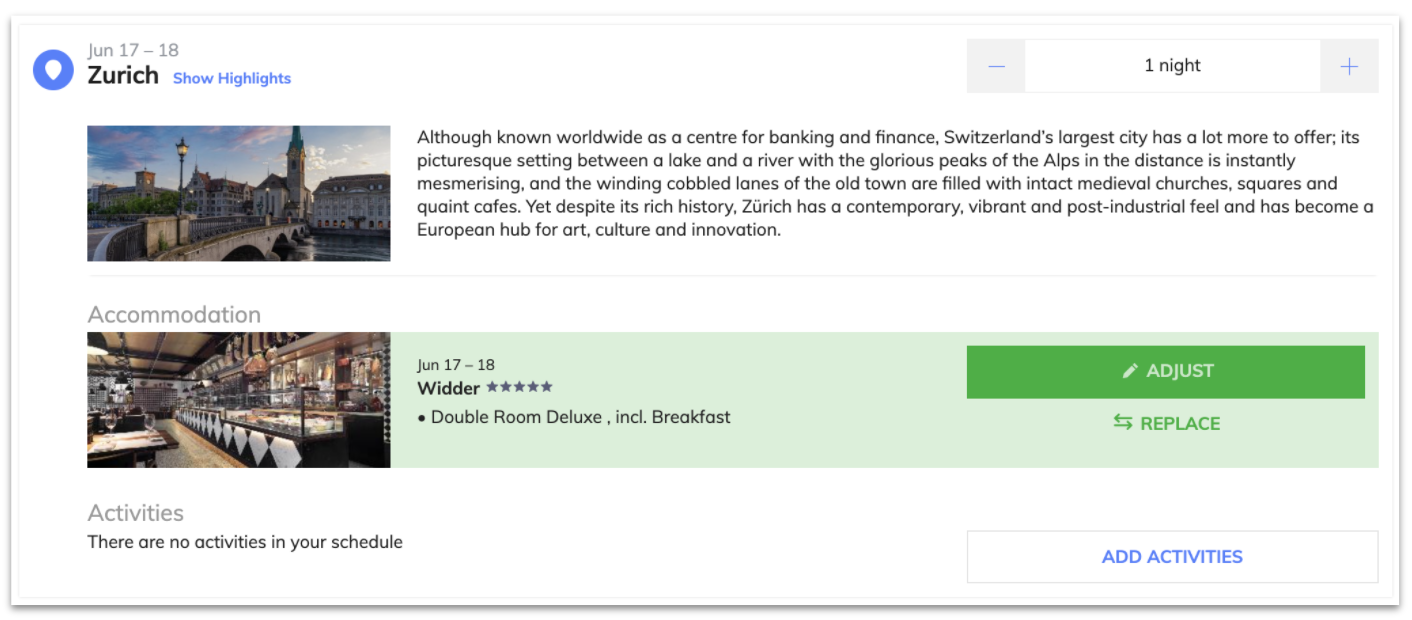 Please Note
Clicking on Show Highlights will open the same view as in the screenshot above, i.e. after clicking "Read More" on Explore.
Travel Documentation
In Planner, click on Itinerary & Services to be directed to the itinerary overview.