Introduction to Tour Operator Tools
The so-called TO-Tools allow performing options of saving, viewing, and adjusting an itinerary. The TO-Tools can be found on the upper right-hand side of the itinerary in the Planner.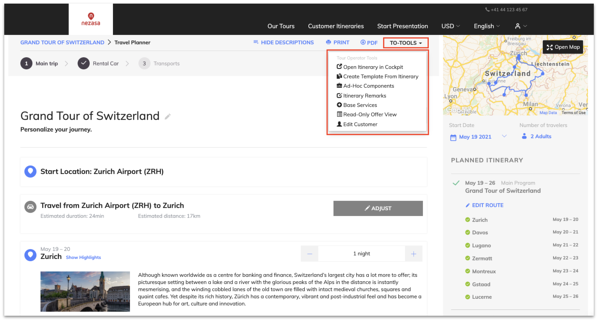 The To-Tools drop-down menu offers options to encompass certain additional adjustments that can be made to an itinerary, such as creating a template from the itinerary or adding ad-hoc components.
The following options are available:
| | | |
| --- | --- | --- |
| Option | Description | Article |
| Optional Service Charges | Optional Service Charges (OSC) are hidden fees that can be added by travel agents while planning an itinerary. | Read more |
| Create Template from Itinerary | Allows to save and publish an itinerary as template for further reuse. | Read more |
| Ad-Hoc Components | The ad-hoc component feature allows adding offline contracted products to an itinerary while planning. | |
| Itinerary Remarks | The itinerary remark functionality will allow you to add remarks to the whole itinerary, a stop of the itinerary, or any selected component of the itinerary. | Read more |
| Base Services | Base Services are additional components, which have a fixed pricing for a set duration. They offer the option to shorten or extend the duration of service, subtracting or adding a specified amount from the fixed price. | Read more |
| Read-Only Offer View | Enabling the read-only offer view creates a link for the Tour Operator which allows the customer to view but not adjust the itinerary in the Planner. | - |
| Edit Customer | The edit customers feature allows making changes to the personal data of the main traveler. | Read more |
Please Note:
The tools themselves are only visible to Tour Operator users.