Introduction to Settings
Under the Settings section of the Cockpit, several details and settings can be adjusted.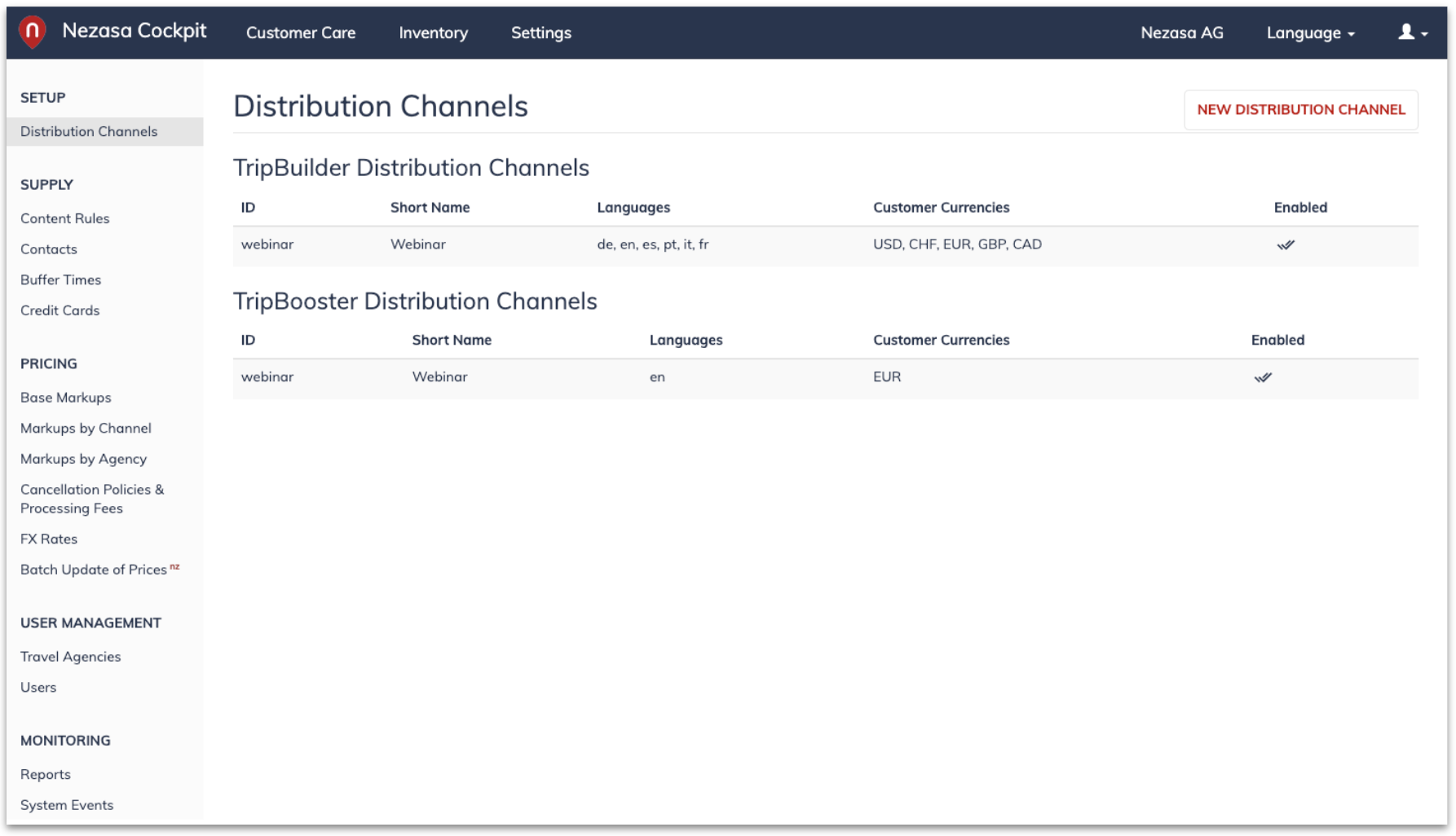 The following setting options are available:
Option
Description
Article
Setup
Distribution Channels
Distribution channels give you the tool to maintain several brands towards the market.
Read more
Supply
Content Rules
Content Rule setting allows the delimitation of content by creating individual "Allow and/or Deny Lists".
Read more
Contacts

This option allows you to store your important contacts.

Read more
Buffer Times
Buffer times allow time spans to be blocked before and/or after a certain event or activity.
Read more
Credit Cards
Add credit card details (Marketplace)
-
Pricing
Base Markups
Setting the correct price on a product or service is the key to profitability. Within the Nezasa TripBuilder system, you are able to set markups on different levels to define the right selling price for your services.
Read more
Markups by Channel
Markups by Agency
Cancellation Policies & Processing Fees
Cancellation policies for Templates can be managed in Settings.
Read more
FX Rates

Automatic currency & foreign exchange rates adjustment.

Read more
Batch Updates of Prices

There is a batch update function to modify the prices of a certain product type in one go.

Read more
User Management
Travel Agencies
Travel Agency Management
Read more
Users
User Management & Permissions
Read more
Monitoring
Reports
Request System Reports
Read more
System Events

System events are automatically created and give information on different actions performed by the system.

Read more
Please Note:
Settings are only accessible for users with administrative rights.