All customers with access to the Inventory can manage if the RouteBuilder should be enabled or not in the Planner on the Template level.
Based on the general Distribution Channel Setting, the RouteBuilder in the Planner is either disabled or enabled for all FIT Templates published through a distribution channel.
Learn more about the general feature setting in Distribution Channel here.
Please Note
If you do not know if the RouteBuilder is enabled for you, just check if the link Edit Route is displayed in the Planner.
If yes, then the RouteBuilder is enabled.
Steps to set the RouteBuilder in Template level:
Go to Inventory
Click on Package Builder and Itinerary Templates
Checkout & open a published Template
Click on the Miscellaneous Tab
Select the required Show RouteBuilder Setting

Enabled for all users
Enabled for travel agents and employees
Enabled for employees only
Disabled
Inherit from Distribution Channel (default)
Note:
When you create a template and do not select a particular setting from the drop-down and leave the setting empty, the general setting from the Distribution Channel will be applied.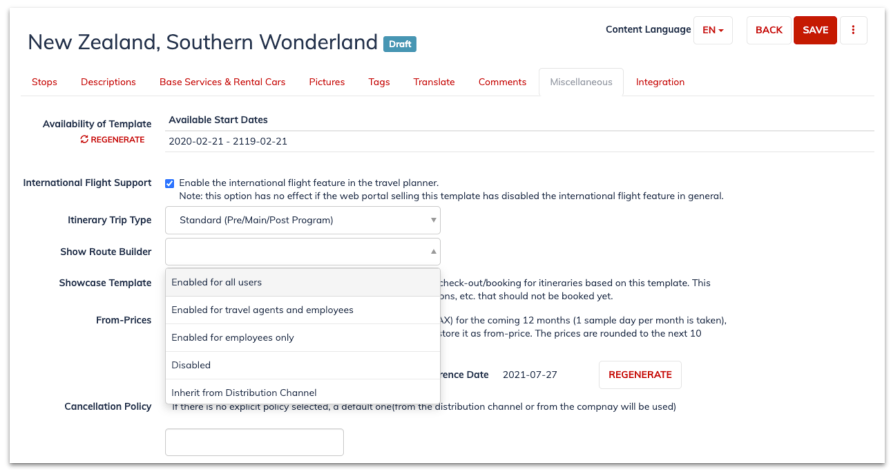 Click Save and publish the Template again
Tip
This feature will enable you to combine fixed trip/packages with completely flexible RouteBuilder powered itineraries (e.g., regional/local self-drives) on the very same distribution channel.