Auto-Updates of FX Rates
The exchange rates between currencies are automatically updated by the system. The "valid from" column shows when it was last updated. The auto-updates are enabled by default for all new setups.
The system imports the rates twice per week, on Tuesday and Thursday. TripBuilder uses Currency Layer as a source for the most recent rates. The listed rates are therefore read-only. The only configuration option available is the safety margin. This is a margin one can add and will be added automatically on top of the FX rates.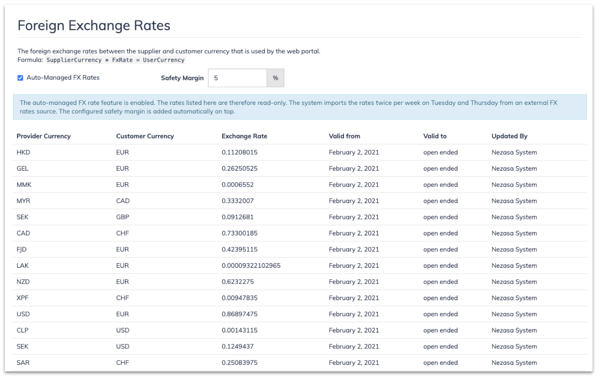 Manually Updating FX Rates
Premium and Enterprise customers may manage manually all FX rates or only selected ones.
Manually Manage Specific FX Rates
It's possible to leverage the auto-updates as the base for currencies but manage selected FX rates manually. This way of managing FX rates is especially useful when you may have hedged FX rates with a bank for some currencies but not overall.
To do so, keep the flag "Auto-Managed FX Rates" activated and then click on the edit pencil of the FX rate you would like to manage manually.
In the modal that opens, disable Update automatically to start managing this specific FX rate yourself.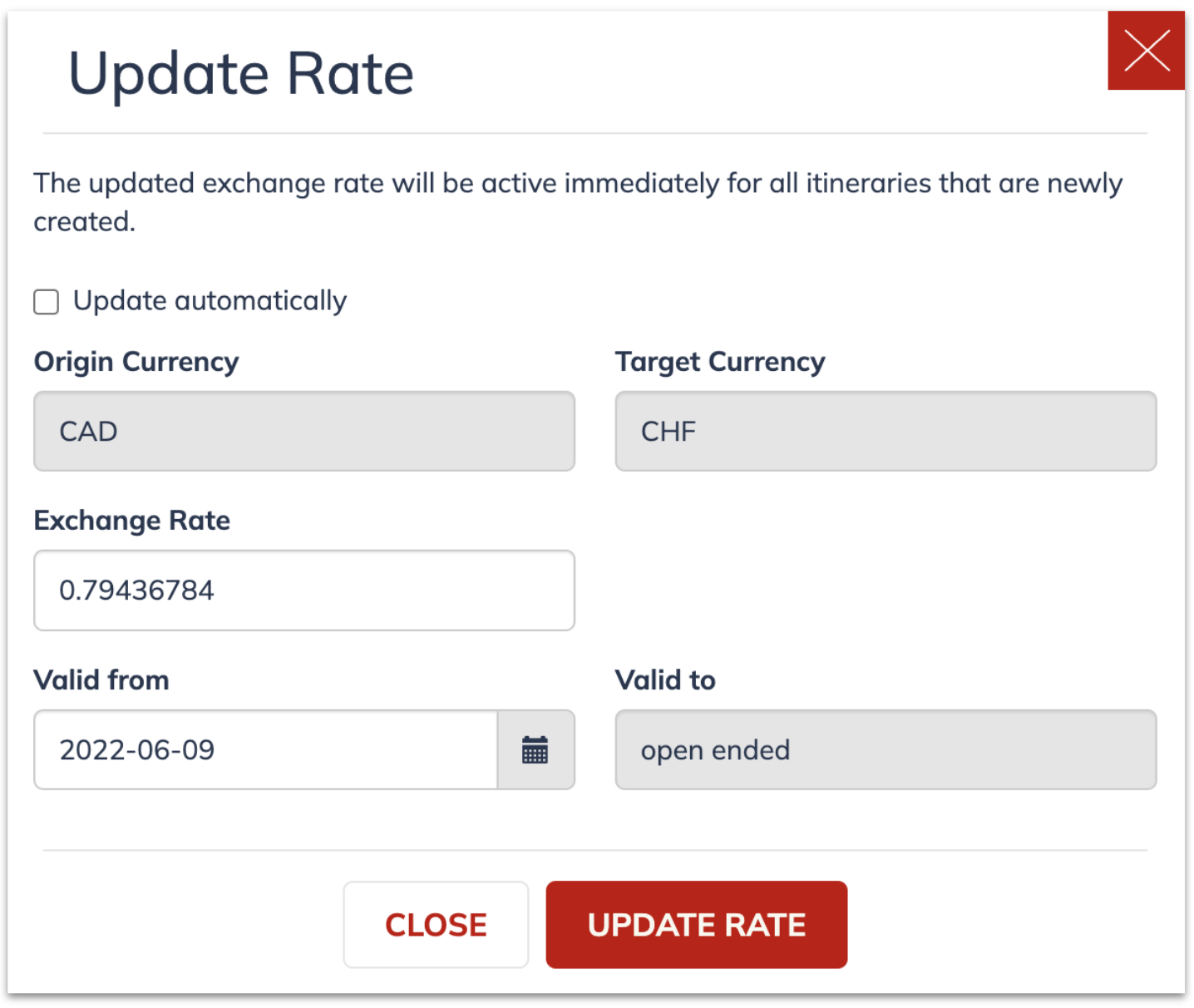 Completely Disable Auto-Updates
In order to do so, disable the option Auto-Managed FX Rates in the UI. Once done, an edit pencil appears at the end of each FX rate row: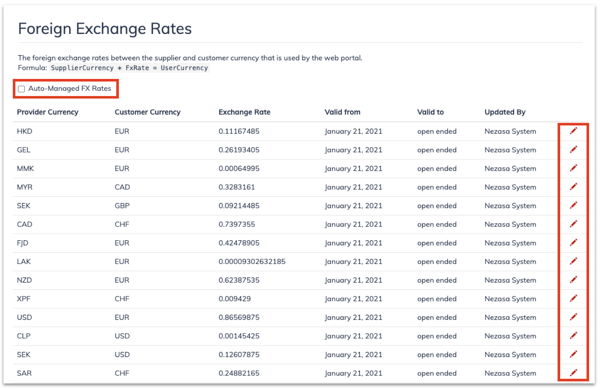 Steps to edit a currency exchange rate:
Click on the edit pencil
A pop-up window opens where you can edit the

Exchange Rate
Valid from date
(The validity can be set to a day in the future or as from now, but not in the past.)


The adjusted exchange rate and date will be automatically saved.
Please Note
Adding the default currencies in order for them to be displayed can be done on request by Nezasa. Learn more about currencies here.
Frequently Asked Questions
When I enter a new FX rate, its start datum (e.g., Aug 1, 2022) is equal to the end datum (e.g., Aug 1, 2022) of the previously most recent FX rate. Which one of the two is valid for that date?
While the UI only shows the date itself, the system works with exact timestamps (full ISO format). There is no overlap in the system.
Manually added start dates generally use a timestamp for the very beginning of the day. Automatically updated FX rates used the exact timestamp when they were fetched from the external currency provider.