Automatic currency & foreign exchange rates adjustment
The exchange rates are updated for each of the currencies, indicating the last updating date in the "Valid from" column.
The Auto-Managed FX Rates feature is generally enabled for all marketplace customers. The system imports the rates twice per week, on Tuesday and Thursday, from an external FX rates source (
Currency Layer
). The listed rates are, therefore, read-only. The configured safety margin is added automatically on top.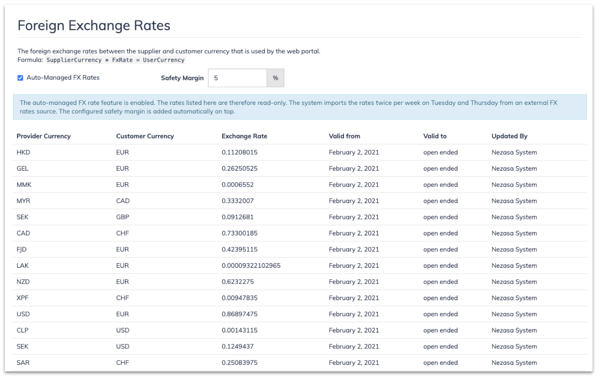 Managing currency & foreign exchange rates manually
However, our Premium & Enterprise customers have the possibility to manage FX rates manually. In order to do so, the option Auto-Managed FX Rates must be disabled.
The exchange rates can be manually adjusted by clicking on the editing sign, i.e. the pen.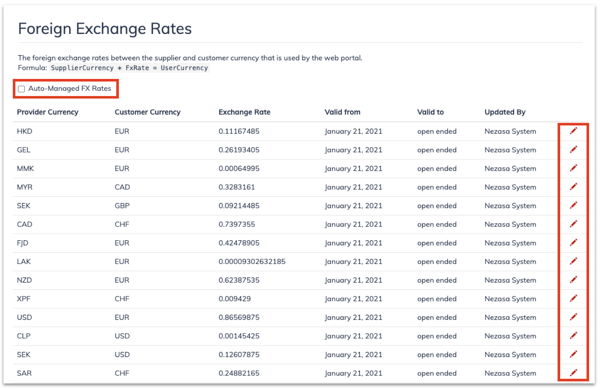 Steps to edit a currency exchange rate:
Click on the edit pen on the right-hand side of the currency exchange rate which should be adjusted.
A pop-up window opens where you can edit the

Exchange Rate
Valid from date
(The validity can be set to a day in the future or as from now, but not in the past.)

Click on Update Exchange Rate
The adjusted exchange rate and date will be automatically saved.
---
Please Note: Adding the default currencies in order for them to display, can be done on request by Nezasa.
---