When adding flights via the Ad-Hoc Transports feature, you can choose to import their information through the Import PNR option
Step to import flights via PNR:
Go to TO-Tools
Click on Ad-Hoc Components
Click on Add Transport or Flight Ad-Hoc Components
Click on the button Import from PNR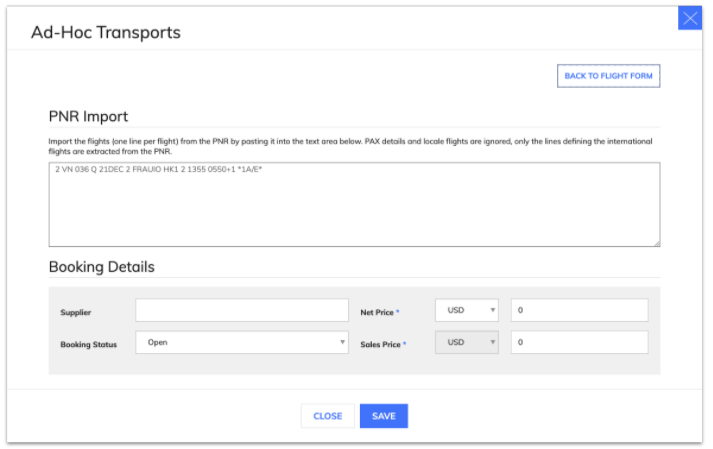 Enter the PNR information into the field, as shown below
---
Please Note: Use the example stated in the input field as a guideline for the entered PNR.
2 VN 036 Q 21DEC 2 FRAUIO HK1 2 1355 0550+1 *1A/E*
| | |
| --- | --- |
| 2 | Is the segment number on your itinerary. |
| VN 036 | Is the flight prefix and flight number |
| Q | Is the booking class for this sector. |
| 21DEC | Is the departure date. |
| 2 | Corresponds to the day of the week. 2 is Tuesday. |
| FRAUIO | Is the origin and departure airport codes concatenated. |
| HK1 | Is the flight Status. HK means the reservation is confirmed. 1 is confirmed for one passenger. |
| 2 | The letter or number is the departing terminal. |
| 1355 0550 | Departure and arrival time. |
| +1 | +1 needs to be added if the arrival time is a day after the departure time. |
| *1A/E* | Is a tag indicating that the sector is eligible to be printed on an E-ticket instead of a paper ticket. |
---
Enter the Booking Details

Supplier
Select Booking Status
Net Price
Sales Price

Click Save
The flights will be added to your itinerary and displayed within the ad-hoc flight section, in planner and on the travel documentation.
---
Note: The system will display an error message if the PNR input is not correctly done and will tell which line in the PNR code is not correct.
---
Example
An itinerary has been planed with the following details:
Startdate: 12th Mar 2021 in Christchurch, New Zealand
Enddate: 4th Apr 2021 in Auckland, New Zealand
Ad-Hoc Transport/Flight PNR Import
1 NZ 3345 Y 10MAR 2 ZRHSIN HK1 2 1035 0600+1 *1A/E*
2 NZ 3297 Y 11MAR 2 SINCHC HK1 2 1950 1040+1 *1A/E*
3 NZ 3286 Y 04APR 2 AKLSIN HK1 2 1410 2100 *1A/E*
4 NZ 3346 Y 05APR 2 SINZRH HK1 2 0125 0815 *1A/E*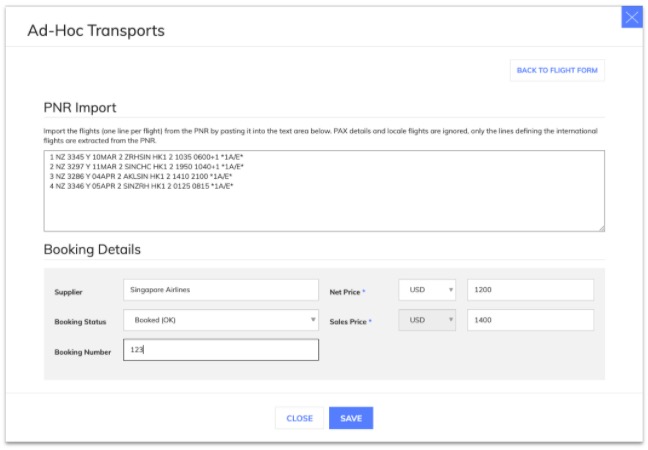 Ad-Hoc Transport/ Flight display:

Display in Planner:


Display on Travel Documentation: