Overview
When adding flights via the Ad-Hoc Transports feature, you can choose to import their information through the Copy/Past PNR option!
Copy/Paste PNR
Go to TO-Tools or TA-Tools
Click on Ad-Hoc Components
Look for the Add Transport or Flight Ad-Hoc Components
Click on the button Copy/Paste PNR

Enter the PNR information into the field, as shown below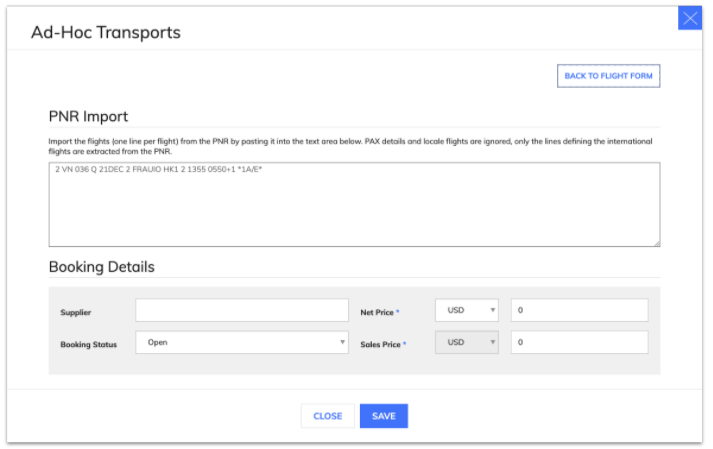 Please Note:
Use the example stated in the input field as a guideline for the entered PNR.
2 VN 036 Q 21DEC 2 FRAUIO HK1 2 1355 0550+1 *1A/E*
| | |
| --- | --- |
| 2 | Is the segment number on your itinerary. |
| VN 036 | Is the flight prefix and flight number |
| Q | Is the booking class for this sector. |
| 21DEC | Is the departure date. |
| 2 | Corresponds to the day of the week. 2 is Tuesday. |
| FRAUIO | Is the origin and departure airport codes concatenated. |
| HK1 | Is the flight status. HK means the reservation is confirmed. 1 is confirmed for one passenger. |
| 2 | The letter or number is the departing terminal. |
| 1355 0550 | Departure and arrival time. |
| +1 | +1 needs to be added if the arrival time is a day after the departure time. |
| *1A/E* | Is a tag indicating that the sector is eligible to be printed on an E-ticket instead of a paper ticket. |
Enter the Booking Details

Supplier
Select Booking Status
Net Price
Sales Price

Click Save
The flights will be added to your itinerary and displayed within the ad-hoc flight section, in the planner and on the travel documentation.
Important:
The system will display an error message if the PNR input is not correctly done and will tell which line in the PNR code is not correct.

Example
An itinerary has been planed with the following details:
Start date: 12th Mar 2021 in Christchurch, New Zealand
End date: 4th Apr 2021 in Auckland, New Zealand
Ad-Hoc Transport/Flight PNR Import
1 NZ 3345 Y 10MAR 2 ZRHSIN HK1 2 1035 0600+1 *1A/E*
2 NZ 3297 Y 11MAR 2 SINCHC HK1 2 1950 1040+1 *1A/E*
3 NZ 3286 Y 04APR 2 AKLSIN HK1 2 1410 2100 *1A/E*
4 NZ 3346 Y 05APR 2 SINZRH HK1 2 0125 0815 *1A/E*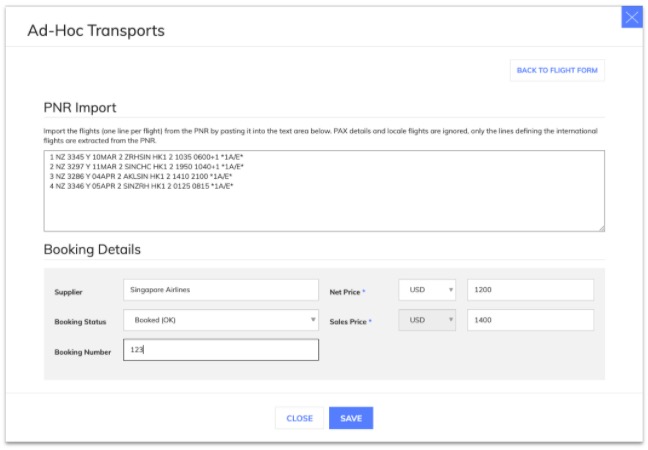 Ad-Hoc Transport/ Flight display

Display in Planner


Display on Travel Documentation