Introduction
Benefit from Nezasa's partnership with Passolution and access travel information for more than 198 nationalities. Passolution's central database makes all health and entry regulations instantly viewable, including those related to Covid-19. With a single integration, you'll be up-to-date on all destination-specific entry requirements and health situations.
Display in TripBuilder
In TripBuilder all information delivered by the Passolution is displayed in the checkout process. The information shown is automatically tailored to the nationalities of the PAX and the destination countries.
Furthermore, the information is added to the travel documentation of the traveller.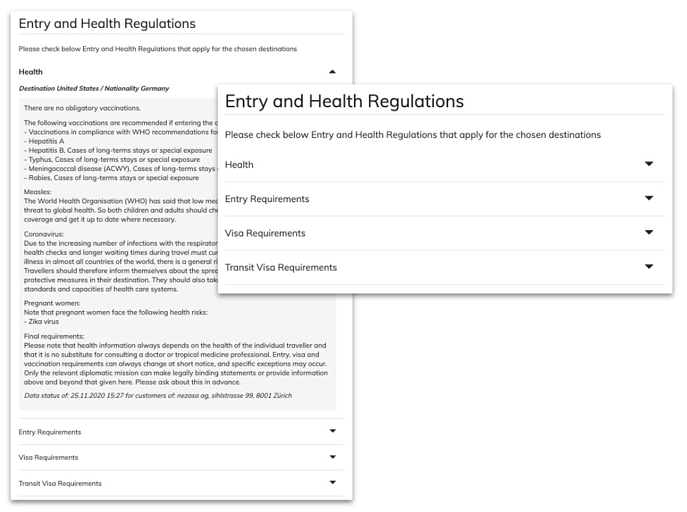 How to integrate Passolution?
Get your Passolution API key here
Provide us with the key and we will enable it for you on TripBuilder
If you have further questions or need a contact person at Passolution, get in touch with us here!
Frequently Asked Questions
What type of information is returned?
Health Regulation in Destination


Obligatory or recommended vaccinations
COVID-19 information
Pregnant women information e.g. info on Zika virus

Entry Requirements in Destination


COVID-19 information
Border Crossing Information
Important on entry
Transit
Important at the destination
Required Travel Documentation

Visa Requirements in Destination

Is a Visa required or not?
What kind of Visa is required?
Period of validation


Transit Visa Requirements in Destination

Example for the US

What happens if I have an itinerary with PAX with different nationalities?
The information above is displayed for each pax and their nationality (see above screenshot). During the checkout process, the traveller's details need to be entered including their nationality information. This data is used to retrieve the information from Passolution.
What happens if my itinerary visits multiple countries?
Countries taken into account are the countries that are visited inside the itinerary (all stops, transfers inside the itinerary, activities), but not stop-overs of international flights. The different segments inside the flight connection are not respected.
The visa and entry requirements are only displayed during the checkout at the moment, are they also attached to the travel documentation?
Yes, as soon as you are on the payment step in checkout the visa and entry requirements will be displayed and as well added to the travel documentation.