Introduction
Nezasa outsourced the operational aspects and supply handling of its Marketplace to AERTiCKET.
Through this new partnership, Nezasa is able to offer a ready-to-use solution that combines the market-leading planning and booking technology for multi-day tours "TripBuilder" with a vast selection of supply across all product categories.
This is made possible through a marketplace functionality powered by AERTiCKET that is built into the Nezasa platform. This supply marketplace allows Nezasa's customers to access competitive rates for flights, hotels, activities, rental cars, and various types of transports from a wide range of suppliers without the need to have a commercial agreement with each and every one of them.
Find more details about AERTiCKET here.
Marketplace Setup
Nezasa, provider of the powerful software solution TripBuilder to produce and distribute personalised itineraries in an efficient, automated, and interactive way.
AERTiCKET, one of Europe's biggest travel services provider responsible for all of the Marketplace supply contracts as well as the operational handling of your bookings in relation to the suppliers.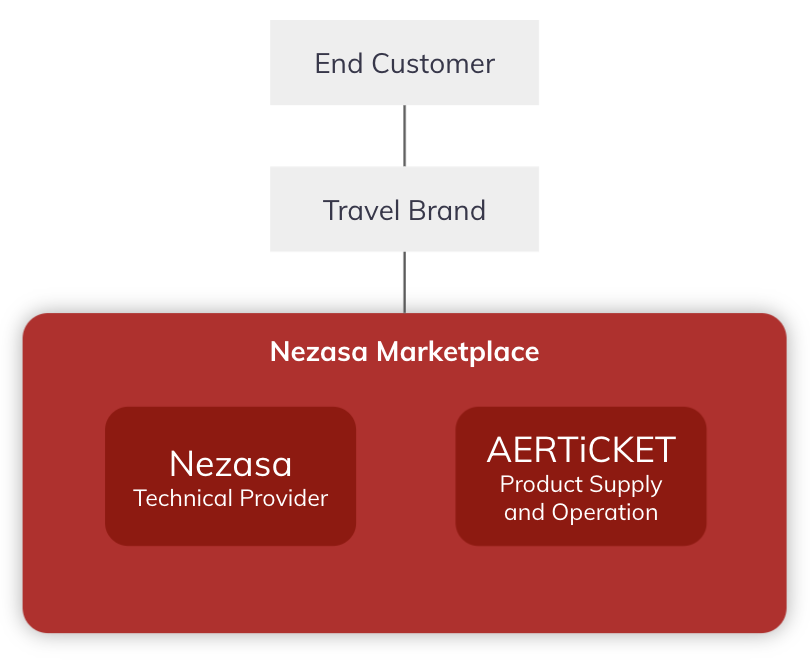 Marketplace Supply
A travel brand can mix supply sources. AERTiCKET is responsible for the operational aspects of supply coming from AERTiCKET. For all other supplies, it's the travel brand's own responsibility.
Online Supply via APIs by AERTiCKET
Supply based on AERs contracts, sources via Nezasa's technical connection using AERs API Keys.
Online Supply via APIs by Travel Brand
Depending on the product plan, the travel brand can use its own contract/API credentials

Offline Supply by Travel Brand

The travel brand may insert offline products into an itinerary (i.e. supply w/o live pricing, availability, and booking possibilities)

Offline supply can be created within the TripBuilder inventory or added ad-hoc via functionalities in the planner.
Find more details about the currently available suppliers via AERTiCKET here.
Marketplace Operation
AERTiCKET is responsible for all operational aspects of the supply provided by them. AERTiCKET will directly interact with the travel brand for all booking issues and matters.
Find more operational contact details here.