Create New Cancellation Policy
Steps to create cancellation policy:
Go to Settings
Click on Cancellation Policies & Processing Fees
Click on the button New Cancellation Policy (upper right end of the screen)
Enter a Name for the policy and select the referring Distribution Channel from the drop-down

Add the Rule Set
Steps to define the Rule:
After saving a new cancellation policy, you will be directed to the following screen to enter your Rule Set: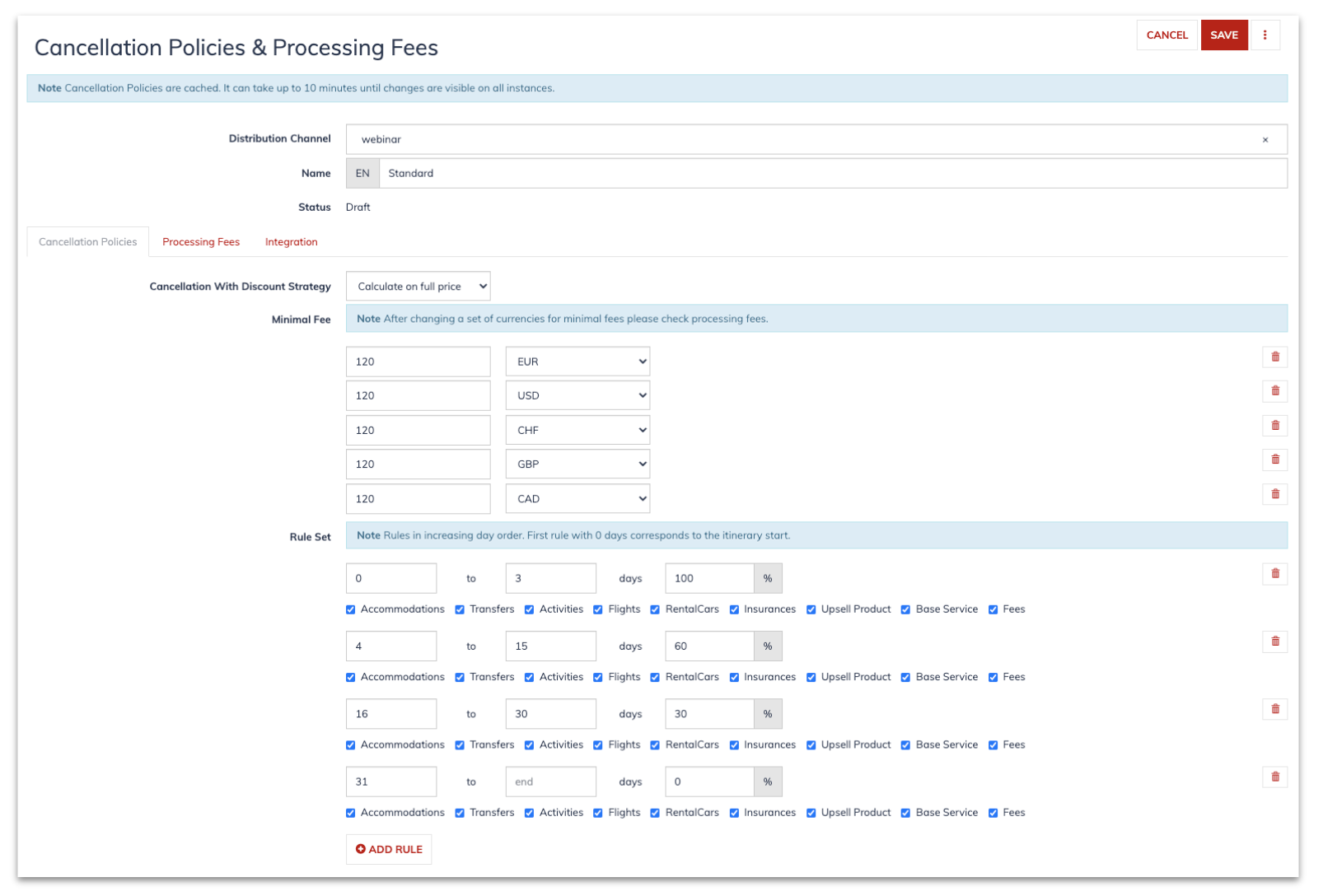 Select your Cancellation with Discount Strategy. This is the strategy how to calculate the cancellation costs in combination with a discount that was applied as the discount. Are the cancellation costs applied on the sales price after/before applying the discount, for example. Two strategies are currently supported:

Cancellation on full price (Calculate the cancellation costs on the full, undiscounted price. At the end, subtract the absolute discount from the cancellation cost.)
The same percentage (Only allow "flat" cancellation policies, i.e., the same percentage for all product types. Then the cancellation costs can be calculated from the discounted price.)
Add the Minimal Fee to each currency
Add your Rule Set

The first line of the ruleset is displayed. Via the add button, you can add as many rule set lines as desired. (See the example in the screenshot above.)

Click Save
To publish the policy click on the button next to Save and select Publish
You will be asked to Confirm the publication
Important
You must add a 0% rule that consists of [Number of Days] to [end]. See screenshot 31 days to end days 0%
Set Default Cancellation Policy
The cancellation policy can be set as the default policy. The default policy will be assigned to itineraries without a cancellation policy.
Steps to set a Default Cancellation Policy:
On the Cancellation Policies & Processing Fees overview page, you will find your created Policy

Click the button Set Default Policy
A pop-up window opens with a drop-down to select a default cancellation policy from the list
Select the policy and click Save
The current default policy will state your selected cancellation policy.
Adding Cancellation Policies to Templates
The published cancellation policy can be explicitly added to the Template, on the Miscellaneous tab of the Template.
Steps to add a cancellation policy to a template:
Go to Inventory
Click on a template you want to add cancellation policy to
Checkout & Open the Template
Click on the Miscellaneous Tab
Add the cancellation policy via the drop-down functionality
Click Save and Publish the template again

Please Note
Cancellation policies can only be applied on the Template level. The set rules apply only to the products in the specific Template, where the policy is set on the Miscellaneous Tab. They do not apply to any other products created in the Cockpit.
Display in Checkout
The added cancellation policy will be shown during the checkout process to the user.