Introduction
The system offers various possibilities to build and display Modules and Templates. This article serves as an overview of the offered possibilities.
Article Available in Video
The information in this article is available in video and with additional example videos below.
Template & Module
The basic setup of a Trip is done as follows:
Products are created and added to Modules → Modules are created and added to Templates → the Template is the blueprint tour that is displayed in Discovery and Planner.
Modules can act as exchangeable components of a tour and are displayed as exchangeable options in the Planner.
Depending on the content, the type of Module needs to be set in the Backend.
The defined Module Type has an impact on the display of the tour on the Planner.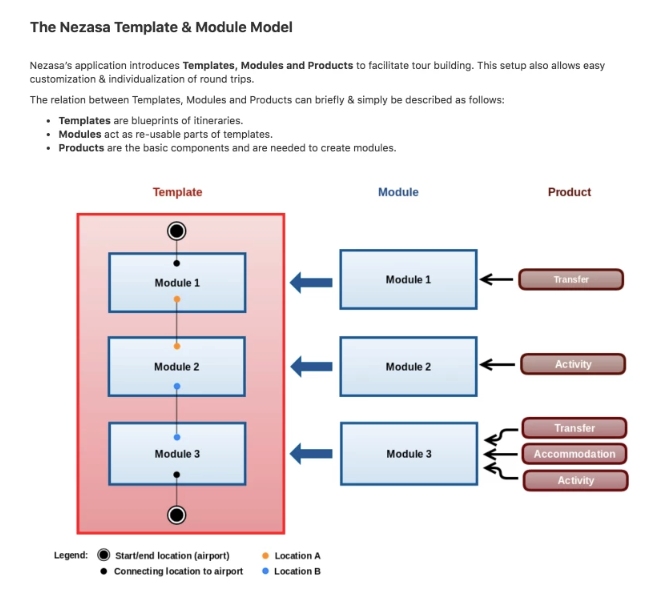 Possible Tour Options
Stop-to-Stop Options

with Rental Car, Transfers or both

Group, Private Tours or Cruises

with or without exchangeable pre-and/or post-programs
Template Type
When a template is created, the itinerary trip type is set, per default, to Standard (Pre/Main/Post). No changes are required here. With this itinerary trip type, many different template setups can be created.
Type
Modules
Description
Standard (Pre/Main/Post)

without Module

Stops and products are directly added to the template

Stop can be moved, deleted, and exchanged on the Planner
Products can be added and removed depending on the users liking

with Modules

Can consist of only 1-3 modules (Pre-Main-Post) with a set order
Pre and Post options are exchangeable components of a Tour in Planner

Main Module can be either a:

FIT Module
Tour Module
Singe Hotel Module

Same counts for the exchangeable pre and post options
Template Creation - Video Examples
Creating a Flexible Template with a Rental Car