Introduction to Customer Care
Customer Care is the place where all itineraries are listed and the booking process takes place.
Features:
Itinerary Dashboard: showing all itineraries from "In planning" to "Booked" status;
Detailed itinerary information: program, travel components/products, prices, margins, travel documentation, historical changes.
Perform changes in the itinerary: booking changes, cancellations;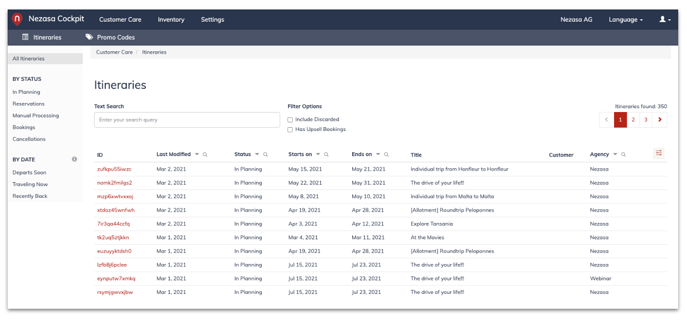 Please Note:
There is a basic set of features and actions available. The amount and possibilities may vary depending on the chosen checkout workflow and the defined booking process.
Itinerary Dashboard
In the itinerary dashboard, you have an overview of all itineraries which have been started in the TripBuilder application. This includes all itineraries that you, your agents or end customers have started to plan directly on the application and which are identified with individual IDs.
The dashboard allows you to search, filter and find the itinerary you are looking for.
Dashboard Functionalities
Functionality
Description
Text Search

Use the text search to look for a specific itinerary

Filter Options

Additional filter options next to the search field are:

Include Discarded shows deleted itineraries in the itinerary overview table.
Has Upsell Bookings allows you to filter for all bookings which have upsell products included.

ID

This is the itinerary identification which is created as soon as a template or "from scratch itinerary" has been instantiated.

Click on the red highlighted link to be directed to the detailed overview of the itinerary.

Columns

The itinerary overview table has different columns with different information about the itinerary.

If more than one Distribution Channel has been defined in Settings, then an additional column - Distribution Channel - is also present in the Itineraries table.

With the toggle on the right-hand side, you can define your own column display aligned with your data visualization needs.

Column Function

Use the arrows and binoculars to fine-grain your filtering:

Filter By Status

Filter itineraries based on their status:

Filter By Date

Filter booked and confirmed itineraries by date:
Promo Codes
Additionally to the itinerary overview, Promo Codes can be generated within the Customer Care area. Read the following article on Promo Codes for more information.

Please Note:
Promo codes are not generally enabled. Please send us an inquiry here.