Introduction to Modules
As seen previously, Itinerary Templates act as the main blueprint of the trip.
Itinerary Templates can be built in a stop-to-stop program plan, or in a modular approach, by using Itinerary Modules.
We have different types of Modules that can be used as many times as needed, allowing different Itinerary Template possibilities.
Standard Templates, offering pre-and post-programs, consist of a) non-exchangeable main modules and, b) a set of exchangeable pre and/or -post modules/programs. In order to use these modules correctly, they have to be created following a set of rules in order to be displayed correctly in the Frontend.
Module Types and Rules
Type
Description
Article
FIT

Flexible Itinerary Templates (FIT) are a Stop-to-Stop program option (including/excluding Transit Activities/Transfers in the connections)

Used for flexible tour modules, where nights can be adjusted and Stop Activities & Hotels can be exchanged
Used as default Transfer-only Modules
Used for Rental Car Templates included in the Route Builder

Read more
Tour
Only Transit Activities (Multi-day tours can be added)


Used for fixed tour modules, group tours, cruises & multi-day activities, and fixed rental car tours.

Read more
Single Hotel

1 Stop Option, including Hotels and Transfers

Used mainly in exchangeable Modules for Templates offering pre- and/or post-programs.

Read more
Example of the Module Types
FIT
This Module contains various stops that include hotels, activities, and transfers.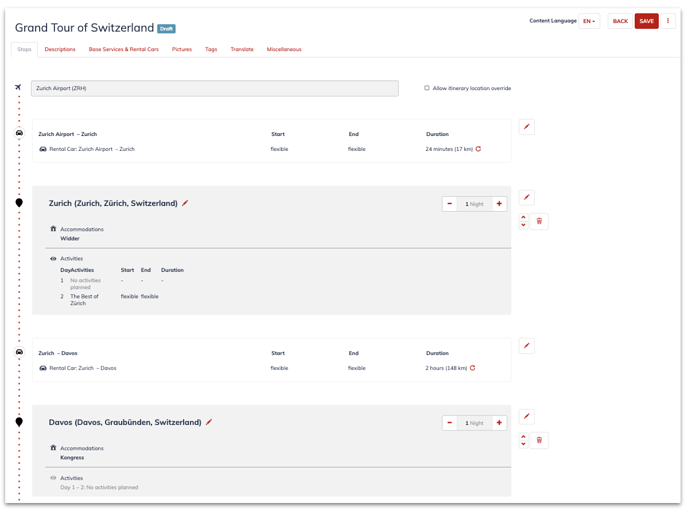 This Module contains only a Transfer and is mainly used as default pre-and post-programs in Standard Template.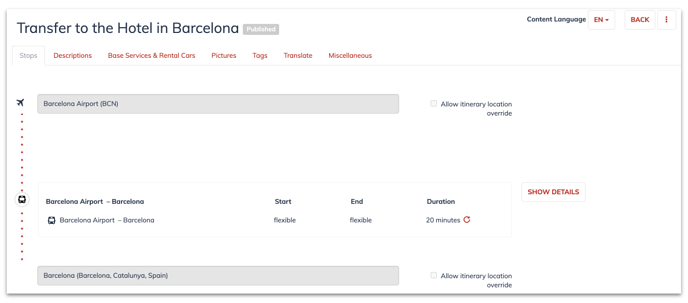 Tour
This Module contains only a Fixed Tour/Transit Activity.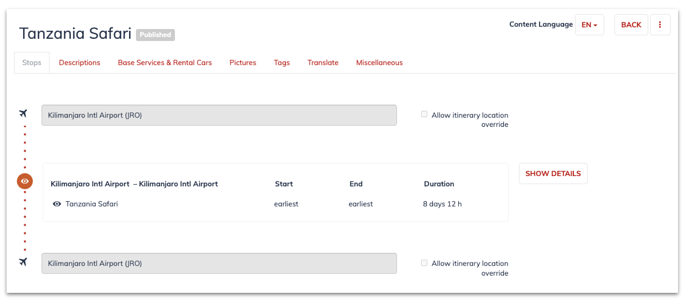 Single Hotel
This Module contains only one stop, including a choice of hotels, and a transfer to and from the stop, which is mainly used as an exchangeable pre- and post-programs in the corresponding Template.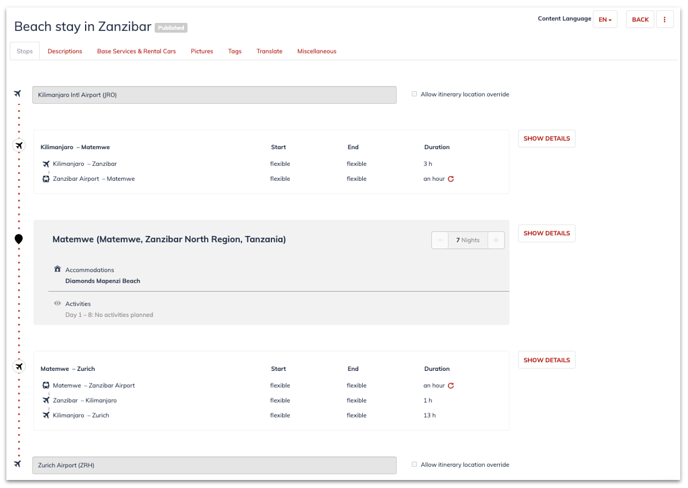 Exchangeability of Modules
Modules can be used as exchangeable components of a tour. When and how Modules are exchangeable depends on the type of Template/Tour loaded.
Loading Preparations
In order to load content to a Module, please make sure you have the following information readily available, depending on which Module type you want to load:
Single Transfers created
Transit Activity created
All Transfers and Hotels created
High-quality pictures added to all products