Overview
Travel Agency Management is only included from the Premium Nezasa Product Plan onwards but can be added and as an add-on to your Advanced Product Plan.
Please Note
Travel Agency Management needs to be enabled by our Support Team. Get in touch with your Account Manager or our Support to discuss your options here.
Steps to create a Travel Agency
Go to Settings
Click on Travel Agencies under the section User Management
Click on Add Travel Agency

Enter the agency ID that you use in your own system (Mid or Backoffice)
Mark the agency as active
Enter the Short name and Legal name (*required)
Enter the Admin Email (*required)
Select the main communication language of the agency

Please Note: the language setting can not be changed after saving the agency.

Optional: Enter the IATA Number of the agency
Click Save to create the new agency
Once you have clicked Save you will be directed to the Company Profile tab of the created agency. Further tabs with additional settings are revealed. Please follow the next steps.
Branches
Define under the Branch Tab the detailed address information of the travel agency.
Go to the Braches Tab
Click on Add a new branch
Check the box, Main Brach, if you are creating the main branch of the travel agency
Enter the following details

Phone number
Email (*required)
Postal Address details
External References if required (ID is related to the ID of the travel agency in your external system)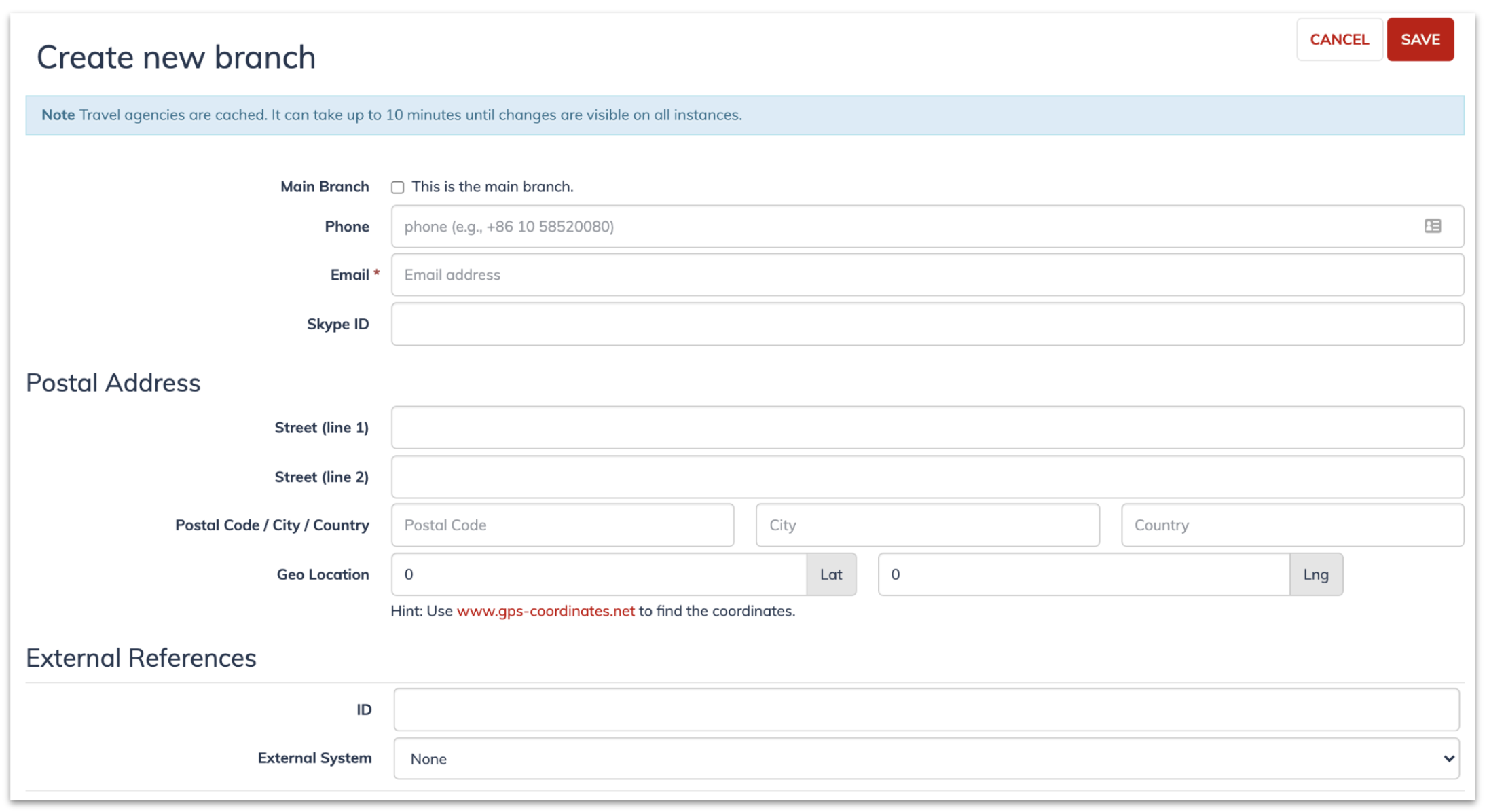 Click Save to save the branch.
Team
Under the Team Tab, all users will be displayed which refers to the assigned company affiliation of the travel agent. This company affiliation needs to be assigned while creating a user with the role profile agent.
Find more information on how to create users, here.
Suppliers
The Suppliers Tab filters the suppliers available for the travel agency Travel Agency Wonderland. If no suppliers are set, all suppliers of the merchant are available
Important
This setting is currently not used within the system and can be ignored.
Travel Agency Settings
The Travel agency settings allow you on the agency level to define the following:
Default Currency displayed to the agency while using the app (Select from the drop-down)
Allow Payment by Invoice during checkout even though the general checkout settings are online payment (Select from the drop-down)

Click Save, to save your changes.
Travel Agency Branding
The general setup and branding of the TripBuilder application are based on the setting of the Distribution Channel (Merchant) in terms of Logo, contact details, styling, etc.
There is however an additional setting that allows enabling Travel Agency Branding for the Travel Documentation of the created itinerary of the agency. Enabling this feature will display the logo and branch information of the agency on the travel documentation.
Please contact our support team if this functionality should be enabled for you, here.

Example: