Important:
The settings about the number of Pax and Room configuration per itinerary are only shown to Nezasa and Premium/Enterprise customers. Customers with other plans will not be able to see these settings.
The number of pax and rooms setting for itinerary creation on Discovery detail allows you to configure for which maximum amount of pax and rooms an itinerary can be planned and booked.
Discovery Detail Page
Display on the discovery detail page based on settings.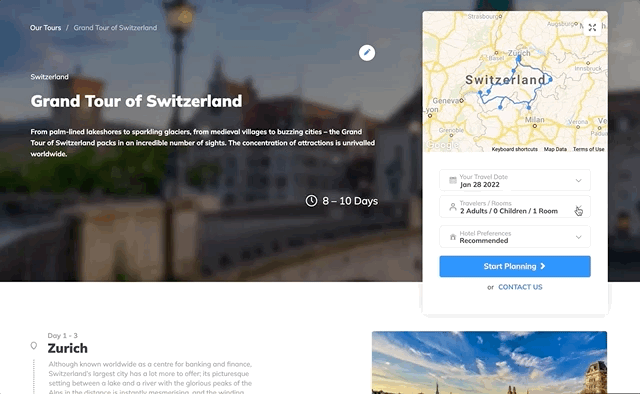 Steps to configure the max number of pax and rooms:
Go to

Settings
Click on

Distribution Channels
Click on your TripBuilder

ID
Click on the

Discovery

tab
Scroll down to

Itinerary Creation and set the

Max Pax per Itinerary

Applies to the instantiation form of the UI (not the API). Limits the number of PAX per itinerary.

Max Rooms per Itinerary

Applies to the instantiation form of the UI (not the API). Limits the number of rooms.

Max Pax per Room

Applies to the instantiation form of the UI (not the API). Limits the number of PAX per room.

Max Children per room

Applies to the instantiation form of the UI (not the API). Limits the number of children per room.

Click Save