Ad-Hoc Components (rental cars, accommodation, activities, transportation, and others) can be used to add your own contracted supply to your online created itineraries. They are an easy way to combine online and offline supply and allow you to be more flexible.
These components are built in ad-hoc for a specific itinerary and are not reusable in other itineraries. If you want to have reusable components, Inventory Products are a better choice.
Example use cases for ad-hoc components:
Suppose a specific product is unavailable via integrated supplier sources or created as an inventory product. Ad-hoc components allow adding the product quickly to the itinerary with its price.
Important Note:
Ad-hoc components are based on your contracted net prices with your suppliers and still need to be booked and confirmed outside the TripBuilder tooling.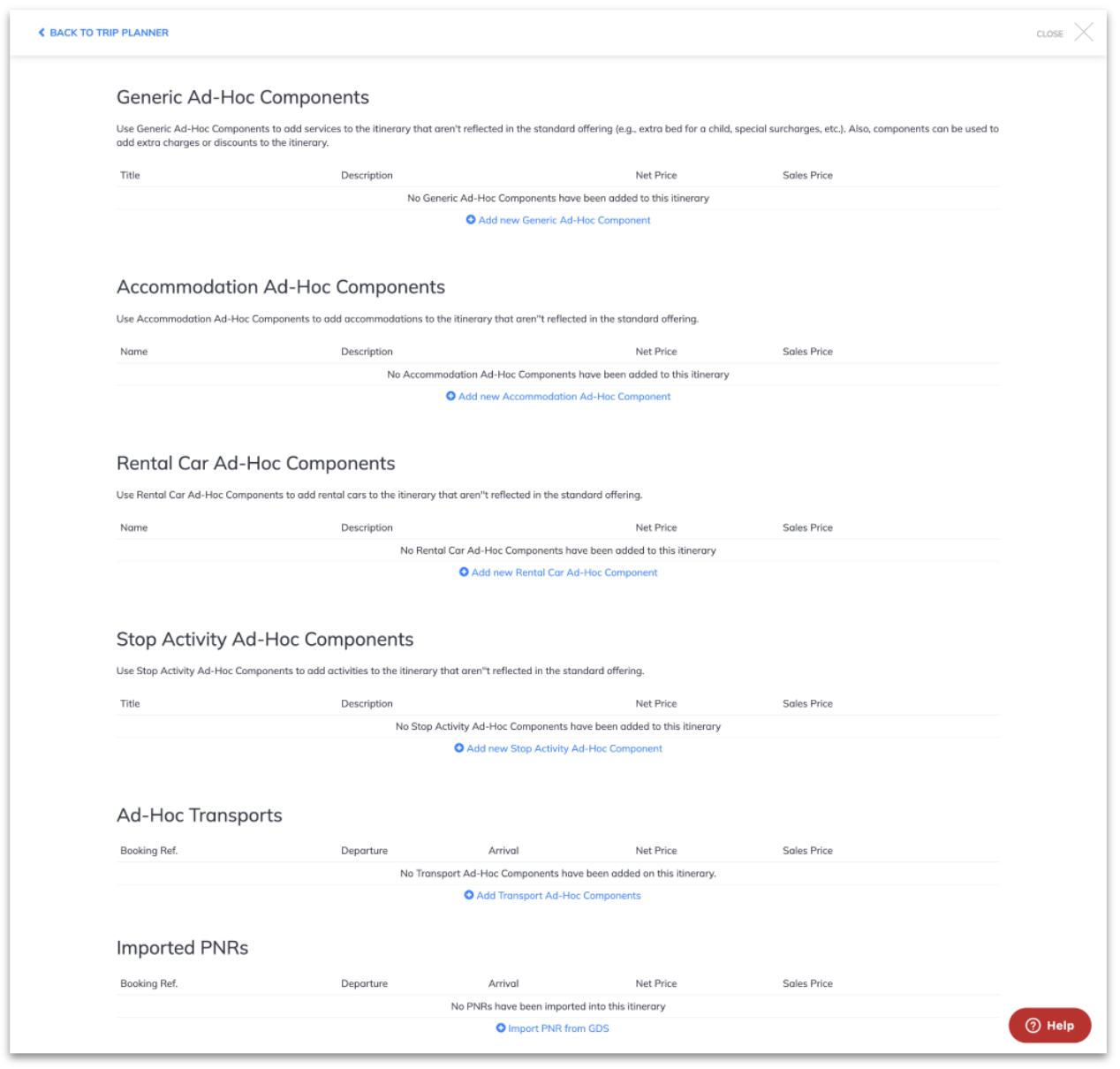 The following ad-hoc component options are available via TO-Tools/TA-Tools in the Planner:
Options
Description
Article

Generic

Ad-Hoc Component

Use Generic Ad-Hoc Components to add services to the itinerary that aren't reflected in the standard offering and/or extra charges or discounts to the itinerary.

Read more

Accommodation

Ad-Hoc Component

Allows adding accommodation ad-hoc to an itinerary (e.g., a hotel you contracted outside TripBuilder)

Read more

Rental Car

Ad-Hoc Components

Allows adding ad-hoc rental cars/campers/motorbikes to an itinerary.

Read more

Stop Activity

Ad-hoc Component

Allows adding activities ad-hoc to an itinerary (e.g., activities not available in TripBuilder).

Read more
Ad-Hoc Transport / Flights

Allows adding flights/trains/bus ad-hoc to an itinerary (except rental cars) for marketplace clients and ad-hoc flights for others.

Read more about

(Marketplace Customers)

Import PNR
Allows importing flight information from an external flight consolidator like AERTiCKET and SoftConeX.
Read more