The ad-hoc component feature allows adding offline contracted products to an itinerary while planning. Ad-hoc components are, as the name says, built ad-hoc in the planner for a specific itinerary and not reusable in other itineraries. To have reusable components Inventory Products are a better choice.
Example use cases for ad-hoc components:
A specific product is unavailable via integrated supplier sources or created as an inventory product. Ad-hoc components allow adding the product quickly to the itinerary with its price.

Important to note is that ad-hoc components are based on your own contracted, net prices with suppliers and still need to be booked and confirmed outside of the TripBuilder tooling.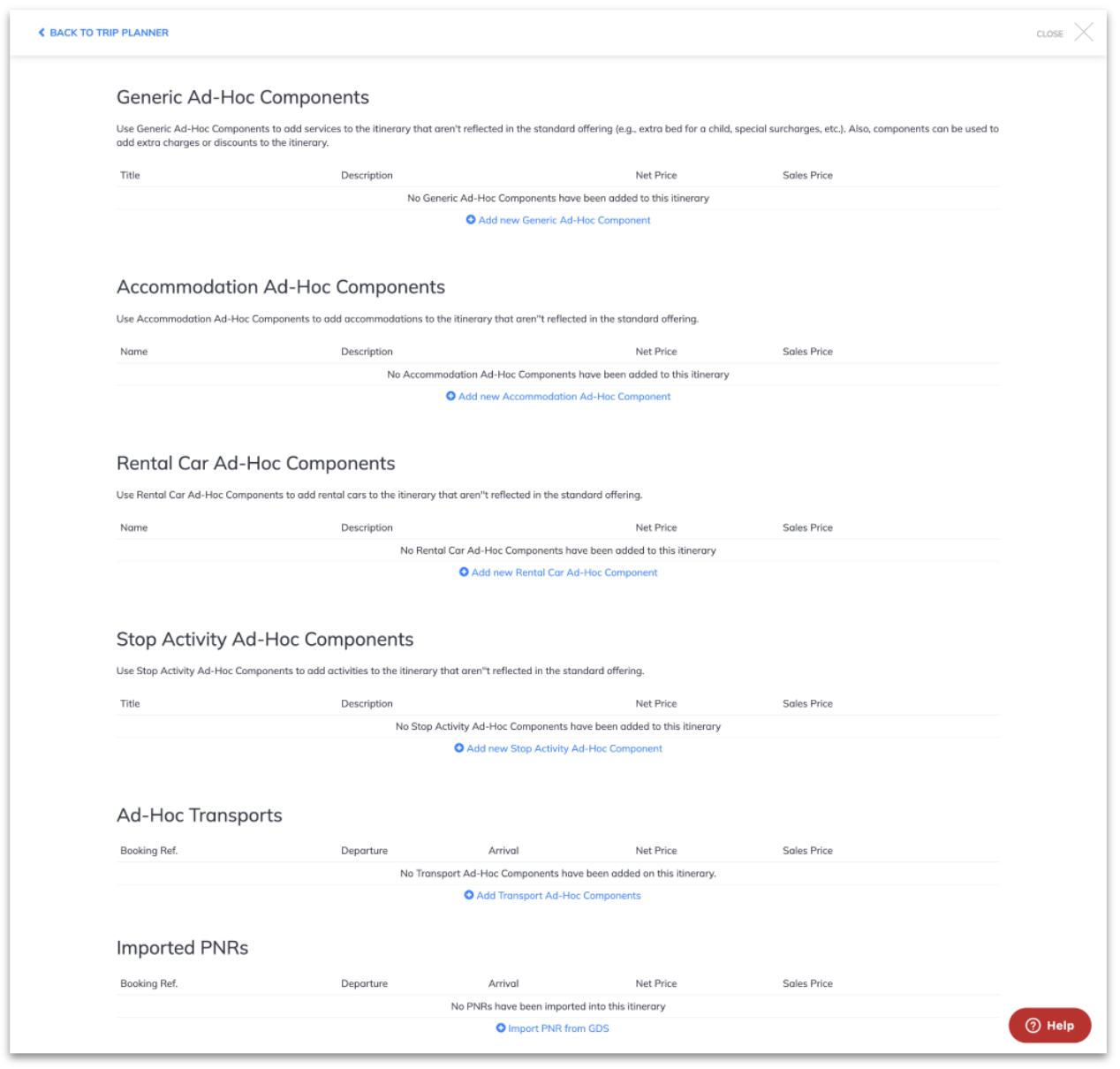 The following ad-hoc component options are available via TO-Tools in Planner:
Options
Description
Article

Generic

Ad-Hoc Component

Use Generic Ad-Hoc Components to add services to the itinerary that aren't reflected in the standard offering (e.g., extra bed for a child, special surcharges, etc.).

Read more

Accommodation

Ad-Hoc Component

Allows adding accommodation ad-hoc to an itinerary.
Read more

Rental Car

Ad-Hoc Components

Allows adding rental cars ad-hoc to an itinerary.

Read more

Stop Activity

Ad-hoc Component

Allows adding activities ad-hoc to an itinerary.
Read more
Ad-Hoc Transport / Flights
Allows adding flights ad-hoc to an itinerary.

Read more about

Import PNR
Allows importing flight information from an external flight consolidator like AERTiCKET and SoftConeX.
Read more