Overview
Payment configuration for the Distribution Channel can only be applied if the underlying distribution channel has been set up with online payment. This setup has to be done by Nezasa.
Steps to define Payment Configurations on the DC
Go to Settings
Click on Distribution Channels
Click on your TripBuilder ID
Scroll down on the Checkout tab to Payment
Click on Default which opens up the default setting options
Scroll down on the settings options to Payment again
On the payment option, the following settings can be defined:
Payment Options
The payment option setting allows you to define if invoice payment and/or online payment (credit card) should be displayed on the payment step on the Checkout.
The settings can be different per DC channel based on the setup. Moreover can be overwritten by the travel agency settings.
The order of the options matters. The first one will be the first one listed in the UI and selected by default.
The invoice fee is shown if the amount is higher than zero. Otherwise, the invoice fee is not shown in the checkout.
The invoice Country Restriction: The payment step will only show the invoice option if the contact pax comes from a specific country. If the attribute is not set, no restrictions take place.
Down Payment
Allows defining the down payment percentage, which should be applied as the first payment.
The settings can be different per DC channel based on the setup. Moreover can be overwritten by the travel agency settings.
If enabled, the following detailed settings can be applied:
Down Payment Percentage

Only the set % of the total sales price is charged in the first payment.

100% Threshold in Days

After this threshold, the full amount needs to be paid as a down payment.

Don't offer invoices after 100% threshold:

By enabling this option, the checkout will not offer an invoice as a payment option after the down payment threshold has been reached.
Note that this option is ignored in case there is no alternative to the invoice option, i.e., online payment.

Cover non-refundable flights

If enabled, the down payment amount will be such that the amount of the non-refundable flights is covered.

Example: total package price = EUR 1000, of which EUR 200 is the non-ref. flight, a 40% down payment is configured. In this case, the offered down payment will be EUR 200 + 40% * EUR 600 = EUR 440.

Payment Explainer
It allows you to define the free text above the payment card details section on the payment page in Checkout. Only supported by standard payment pages.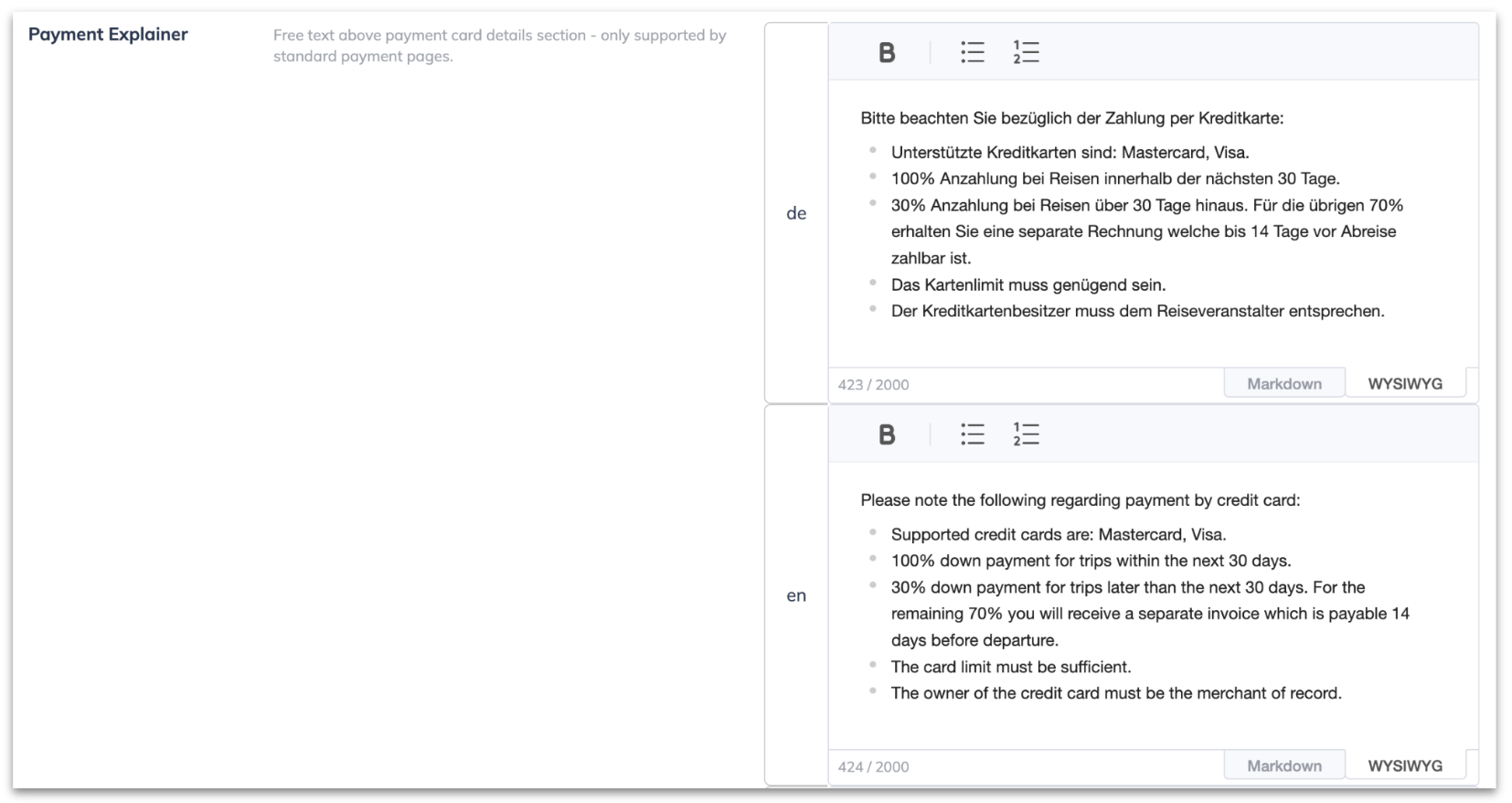 Rest Payment Remark
If disabled, you will be able to define your own text, which should be displayed above the payment detail section for the rest payment. Otherwise, the general payment explainer will be displayed for the rest payments.